Who remembers having to deal with AT&T's slow-as-molasses EDGE network when using the first-generation iPhone? At the time, U.S. iPhone users were limited to using the carrier since the device was an AT&T exclusive, and instead of using 3G, the device was locked to what some called 2.5G. With EDGE, streaming YouTube videos had iPhone users wondering what they were watching since nothing was clear.
Opening complex websites on Safari took time, and even worse, if you were using the browser, any phone calls went right to voicemail. These issues were all fixed with the iPhone 3G. And now here we are, years later, and Apple has just introduced the fourth generation of 5G-supporting iPhone models; thanks to the Qualcomm Snapdragon X70 5G modem in the Pro models, the iPhone 15 Pro and iPhone 15 Pro Max will deliver up to 24% faster download data speeds.
The data comes from
SpeedSmart
which ran speed tests on the new
iPhone 15 Pro
variants over AT&T, T-Mobile, and Verizon. T-Mobile had the fastest 5G download data speed with an average of 300.92Mbps, up 22.5% from last year when the iPhone 14 Pro and iPhone 14 Pro Max were tested. The biggest year-over-year increase, 24%, was achieved by Verizon which had the second-fastest 5G download data speed at 243.06Mbps. 
And that leaves AT&T; the latter's average 5G download data speed of 204.34Mbps was a 14.6% improvement over last year's average. The average 5G download data speed for all three carriers was a brisk 255Mbps.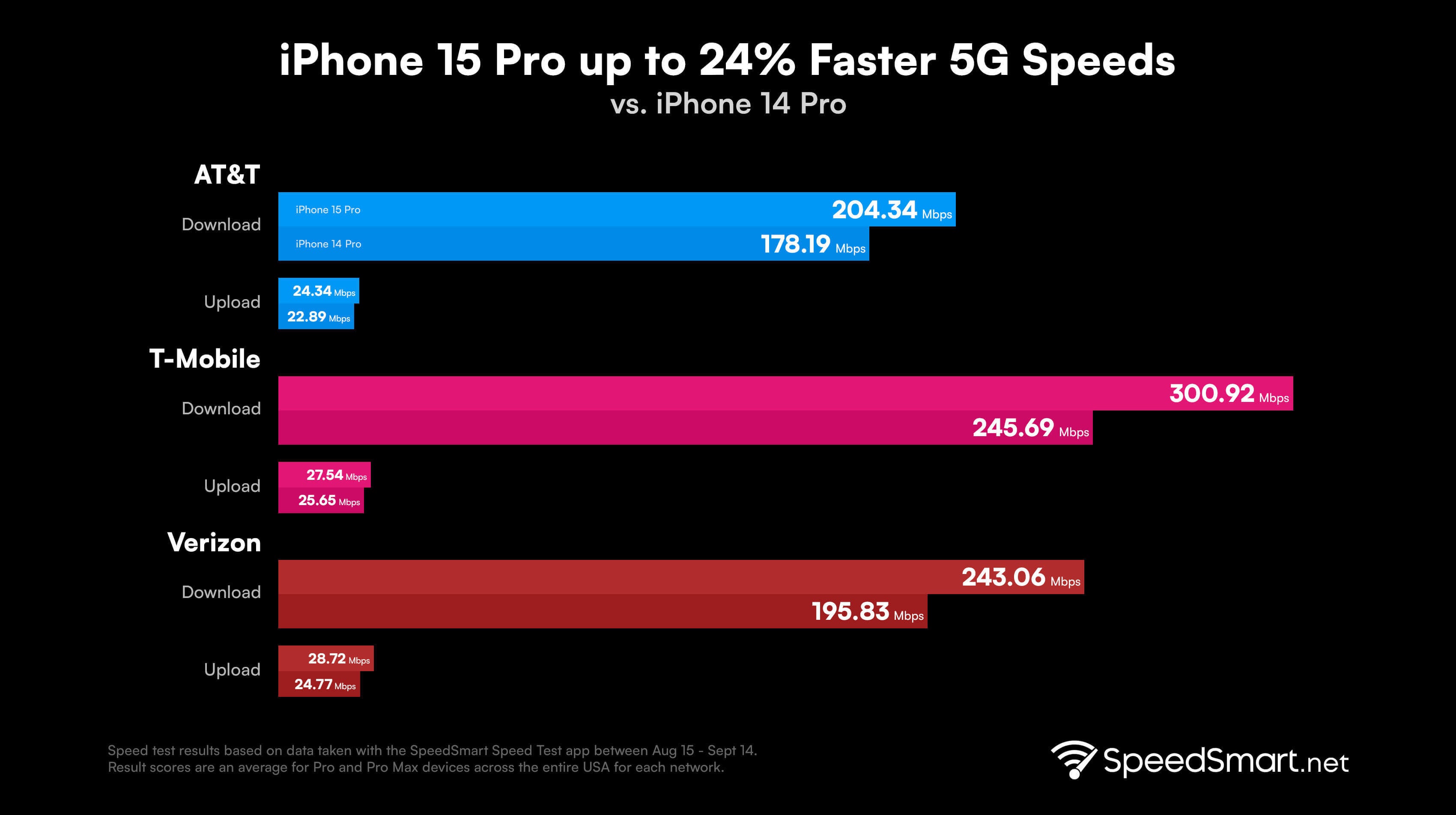 In the U.S., tests show up to 24% faster 5G download data speeds for the new iPhone 15 Pro series
Verizon had the fastest 5G upload speeds at 28.72Mbps, 16% faster than last year. T-Mobile's 5G upload data speed of 27.54Mbps showed an increase of 7.4%, while AT&T's average of 24.34Mbps was 6.3% faster than last year's 5G upload speed.
SmartSpeed points out that the Snapdragon X70 5G modem "offers significantly lower power consumption gains, provide better 5G carrier aggregation capabilities, and better connectivity when your iPhone is further away from a cell tower."
Pre-order the Apple iPhone 15 Pro and iPhone 15 Pro Max right here, right now!
SpeedSmart noted that the test results came from the results obtained from the SpeedSmart Speed Test app between August 15th and September 14th. SpeedSmart says that the "Result scores are an average for Pro and Pro Max devices across the entire USA for each network." The app is available from the Apple App Store by
tapping on this link
. Android users can get the app by
pressing on this link
.
منبع: https://www.phonearena.com/news/5g-speed-jump-iphone-15-pro-series_id150703