Did you know that Samsung is preparing to unveil a new member of the
Galaxy S23
handset family? Of course you did, as does the entire world following a stream of revealing leaks and credible rumors dating as far back as… July 2022.
Given that there are no longer many details left to be disclosed or even confirmed about the evidently fast-approaching S23 Fan Edition, it shouldn't come as a big shock that the phone's manufacturer is now listing that name (in its abbreviated version) on an official website in plain sight.
The latest discovery hinting at the impending arrival of the
Galaxy S23
FE was made by the eagle-eyed folks over at
SamMobile
(who else?), but it's actually
MSPowerUser
that has the significantly juicier reveal for us to feast our eyes on.
Yes, that's almost certainly a legit marketing image of the upcoming inexpensive Android high-ender in a grand total of four color options. These are likely to be dubbed pearl white, black graphite, purple lavender, and olive (or something along those lines), and for the most part, they look pretty similar to existing flavors of the "standard" Galaxy S23 and S23 Plus.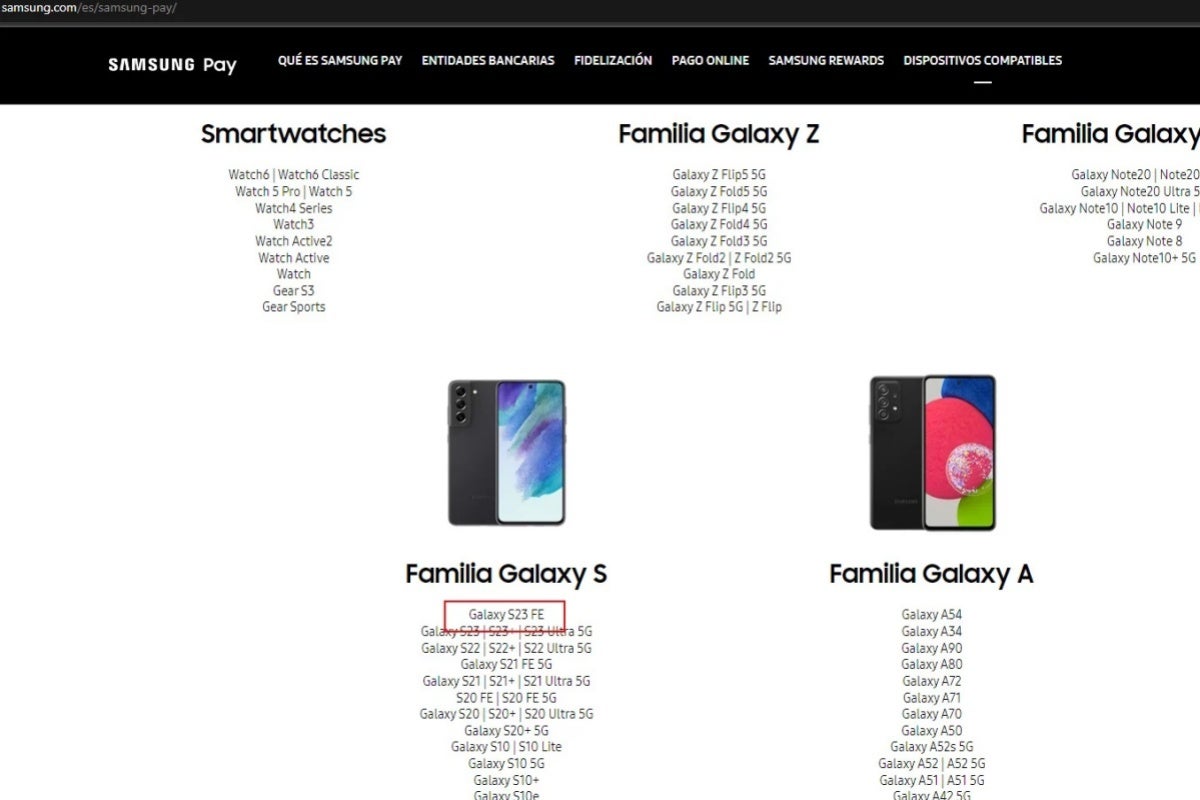 The S23 FE itself looks essentially identical to the
Galaxy S23
(and the Galaxy A54 5G mid-ranger) at first glance, with a clean and simple rear cover featuring three vertically aligned cameras not kept together by any module or "island" and a flat screen with relatively thin but easily noticeable bezels and a centered hole punch.
All in all, this seems like it could be a pretty effective design… at the right price, which remains the biggest question mark hovering over the colorful
Galaxy S23
Fan Edition. It's also unclear what markets (if any) will receive a Snapdragon 8 Gen 1 variant of the phone and where we should expect this bad boy to be released with an Exynos 2200 processor under its hood.
Some key specs, meanwhile, are virtually etched in stone already, including a 6.3-inch Dynamic AMOLED display with a resolution of 2340 x 1080 pixels and 120Hz refresh rate technology, as well as a 50MP primary rear-facing shooter joined by 12 and 10MP sensors, an additional 10MP camera on the front, a 4,500mAh or so battery inside, and 8GB RAM paired with your choice of 128 or 256GB internal storage space.
An exact release date is unfortunately still hard to guess, with an officially official announcement however looking more and more likely to take place… any day now.
منبع: https://www.phonearena.com/news/samsung-galaxy-s23-fe-name-confirmed-four-colors-leaked-promo-image_id150697