This story is sponsored by ESR. PhoneArena's opinions in this article have not been affected in any way!
The iPhone 15 series has been announced and pre-orders are open! If you are out to get yourself one of those beautiful titanium iPhone 15 Pro Max models, it's a good idea to have a protective case on hand for when it arrives — just so you can keep it fresh and new for the longest time. But, of course, you also want to enjoy all the features that iPhone 15 Pro Max has to offer — like that huge screen and the MagSafe compatibility — you will want a case that works in perfect synchronicity.Well, anyone on the search for the best MagSafe case should look at the ESR HaloLock cases. With an innovative Stash Stand, which rests discreetly around the camera lip when not in use, a powerful ring of magnets that strongly latch to MagSafe accessories, and a thinner area around the wireless charging coil, they ensure seamless integration with chargers and accessories. All of the ESR MagSafe cases have military-grade drop protection and super-strong HaloLock rings with 1,500 g of latching force — a stronger hold than the competition.With that said, here are the ESR HaloLock case series for your brand-new iPhone 15 Pro model!
ESR Cloud Soft Case
With Stash Stand and HaloLock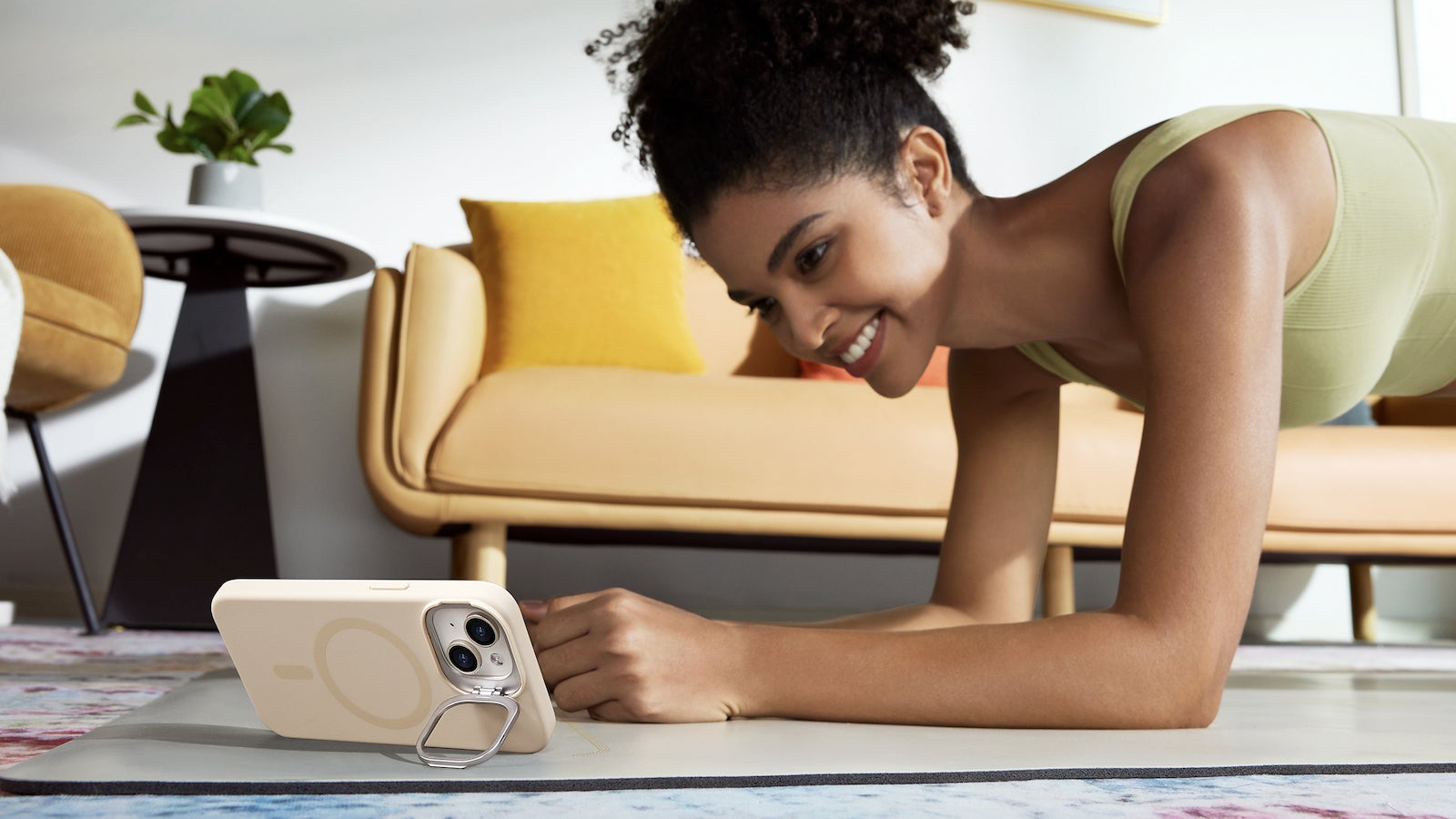 A silicone case that gently wraps around the iPhone 15 Pro and provides protection from all sides, plus a premium soft touch and better grip in the hand. The camera lip can flip out to become a kickstand, so you can enjoy content on your iPhone. Meanwhile, the MagSafe area remains free, so you can slap on a charging puck to keep the battery up while binging your favorite series or gaming on the phone.
Shop ESR Cloud Soft Case
Code ESRPR10OFF for 10% off
ESR Classic Hybrid Case
Clear case with Stash Stand, HaloLock
With a scratch-resistant back and Air Guard soft corners, this completely transparent case will let you enjoy the titanium look of your brand-new iPhone 15 Pro Max, yet keep it protected from all sides. The Stash Stand camera lip is also present here and the thin back ensures fast and stable charging when using a wireless charge puck.
Shop ESR Classic Hybrid Case
Code ESRPR10OFF for 10% off
Budget-conscious shoppers can also check out the Classic Hybrid Case — it also has the excellent HaloLock magnetic ring, but comes without a Stash Stand. Thus, it's a bit cheaper, but doesn't compromise in protection and quality.
Shop ESR Classic Hybrid no Stash Stand
Code ESRPR10OFF for 10% off
ESR Armor Tough Case
Full protection in one package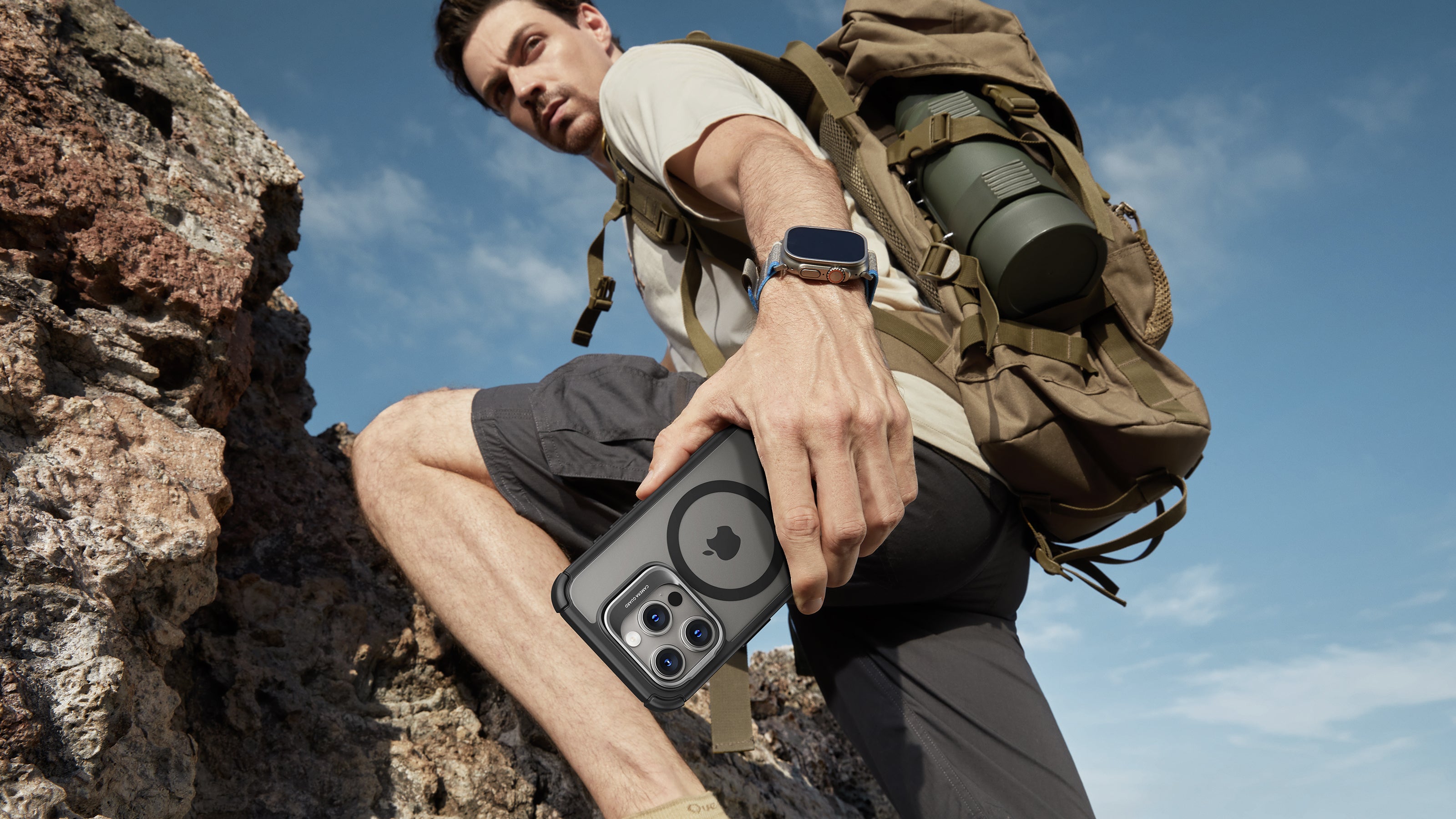 If you want your iPhone 15 Pro to be completely safe, the ESR full-body Armor Tough has the complete protection package. The reinforced soft corners to defend from drops and scratch-resistant transparent back are only the beginning here. The Armor Touch also comes with a front shell screen guard with abuilt-in screen protector and a set of tempered glass camera lens covers. And yes, the thin back with strong magnets and fast wireless charging together with a Stash Stand all apply here as well.
Shop ESR Armor Tough Case
Code ESRPR10OFF for 10% off
More iPhone 15 protection
Air Armor Clear Case set
If you are all about that full protection but want to be able to enjoy the looks of your brand-new iPhone 15 Pro — the Air Armor Clear Case set has you covered. A clear hard back and fully transparent frame with reinforced corners keep the device fully visible. The set comes with two tempered glass screen protectors and a set of glass lens protectors for complete device coverage.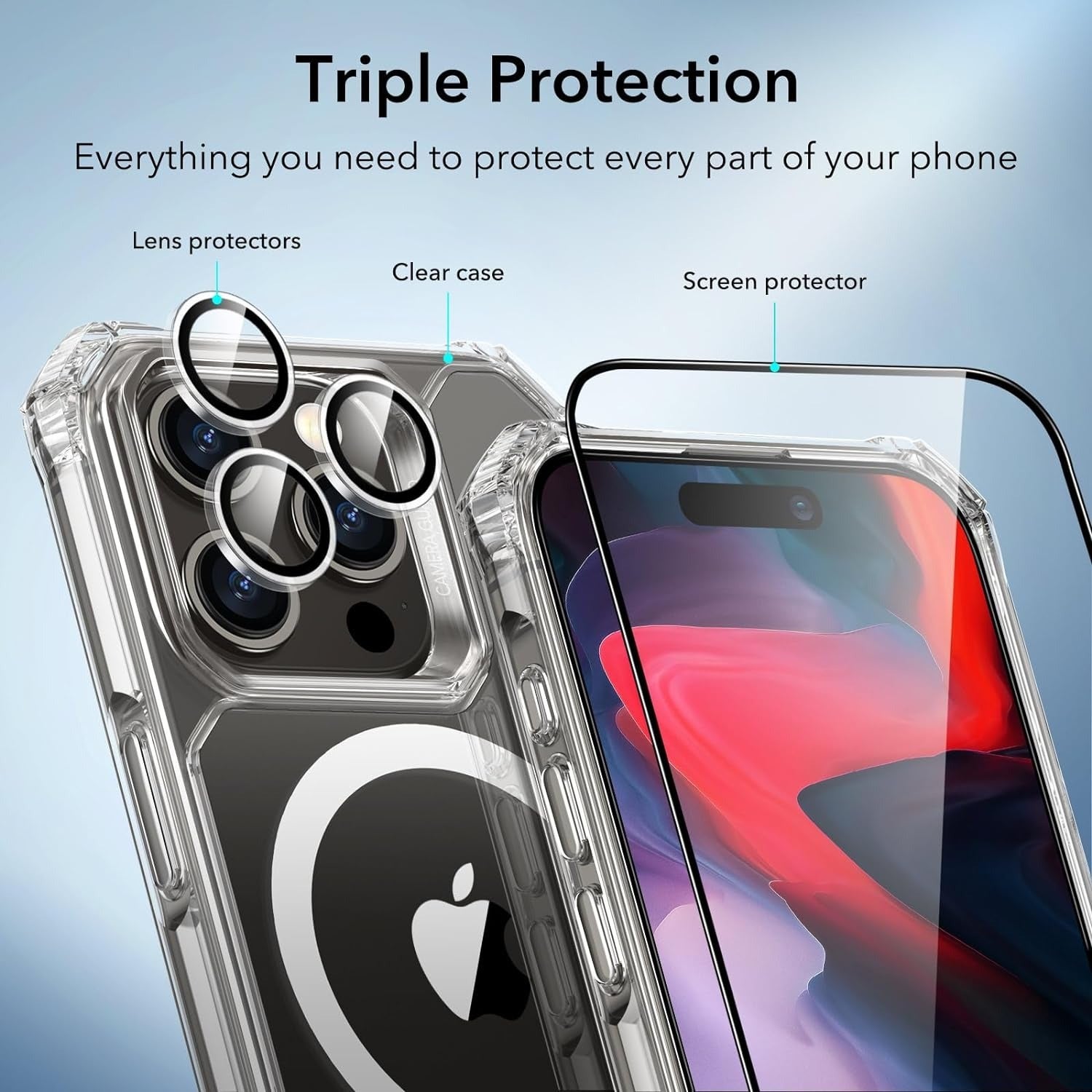 Code ESRPR10OFF for 10% off
Armorite screen and lens protectors
The new Armorite screen protectors for the iPhone 15 Pro series come with micro-curved edges, which ensure complete side-to-side protection for those thin, thin new bezels. They have been tested to cover three military-grade standards — 110-lb pinpoint pressure test, 4 feet ball drop test, and scratch test. The set comes with tempered glass lens covers and installation frames that make it easy to apply all protectors correctly.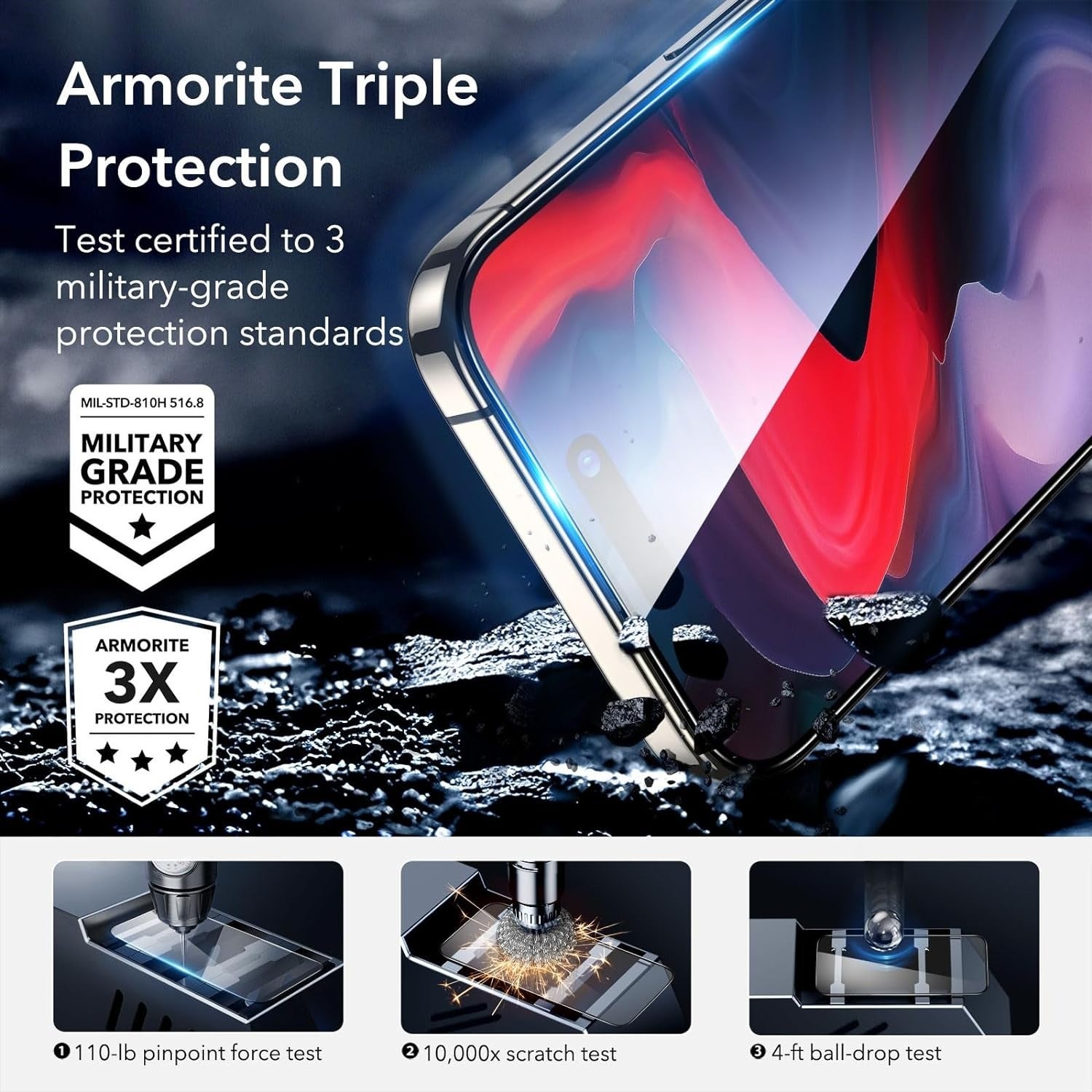 Code ESRPR10OFF for 10% off
Alternatively, you can get the Privacy screen protector, which doesn't allow any snooper to see your phone screen from any angle. This package also comes with the lens protection covers and intallation frame.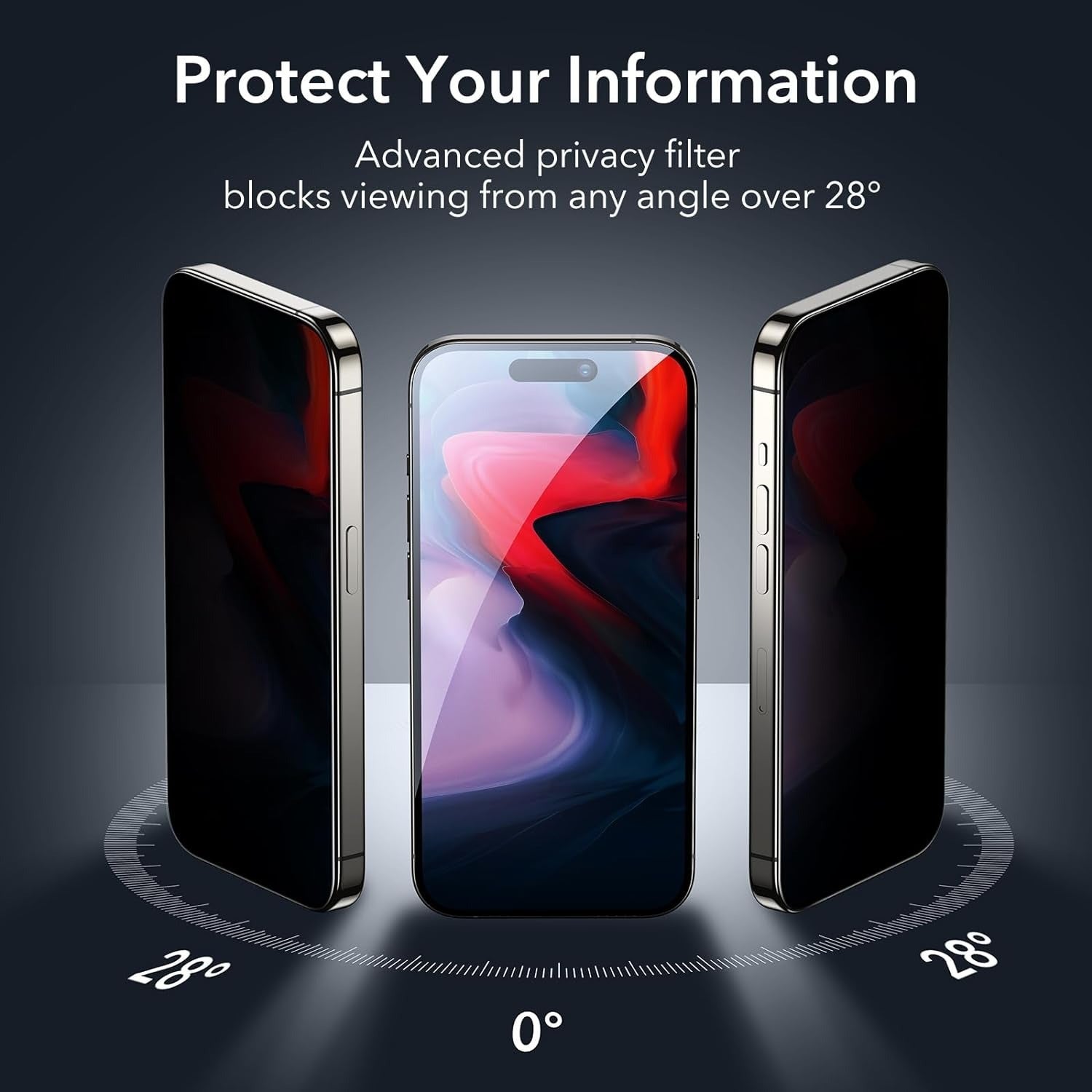 Code ESRPR10OFF for 10% off
Or, if you only want the lens protection covers — you can get a set of those separately as well.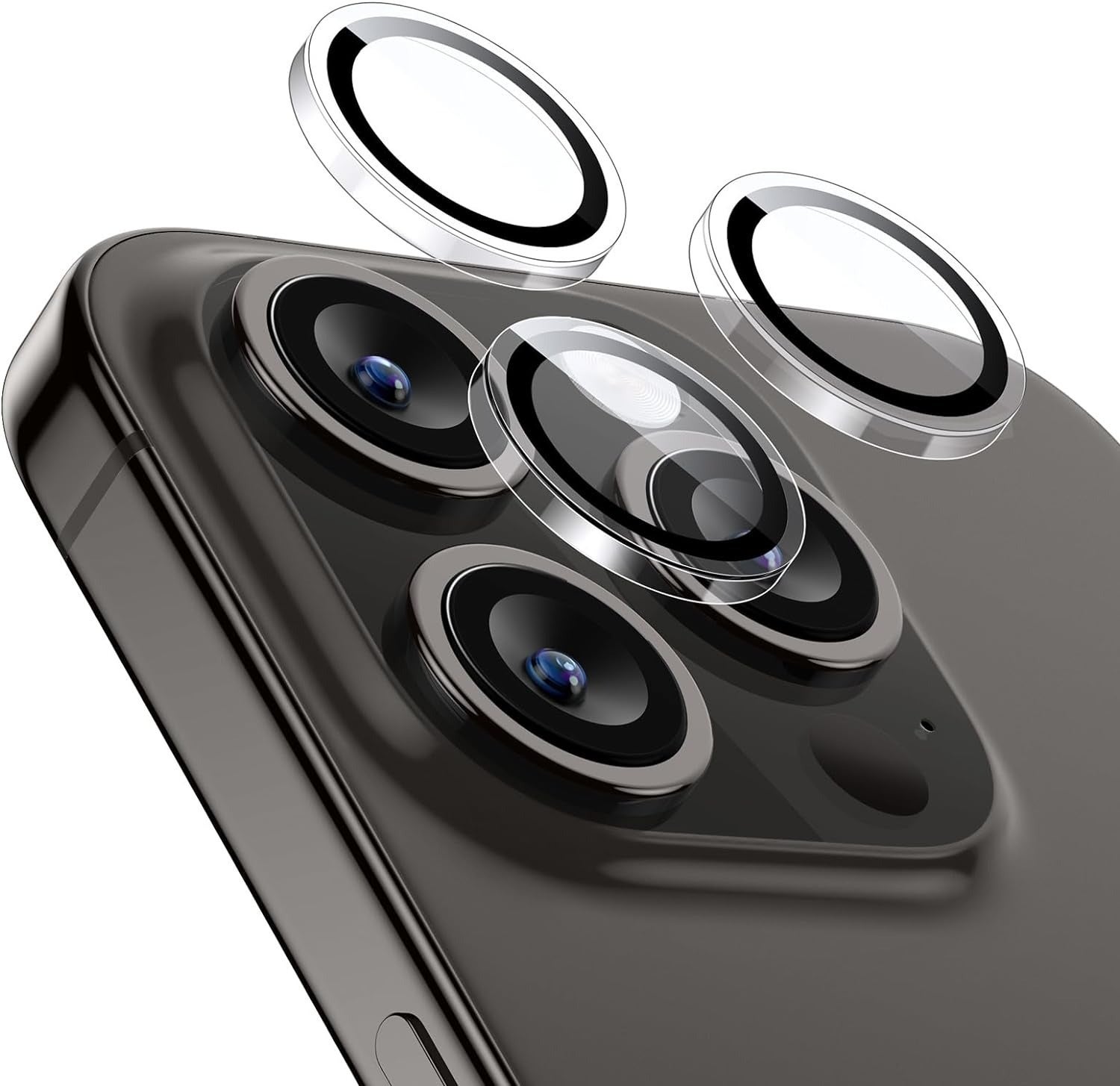 Code ESRPR10OFF for 10% off
Enjoy a 10% discount!
PhoneArena readers get a special 10% off any of the listed products here. Even if they currently have an active discount over at Amazon, you will still get an additional 10% off when using code ESRPR10OFF.
منبع: https://www.phonearena.com/news/esr-magsafe-case-iphone-15-pro_id150664