The Tensor G2 features a seven-core Arm Mali-G710 GPU and is no match for the top gaming phones. You can definitely play games on the
Pixel 7
but the experience will be decent at best and you can't play demanding games at the highest settings.
Meanwhile, other high-end phones like the Galaxy S23 Ultra can easily tackle intense games. In fact, the new iPhone 15 Pro is being compared to handheld gaming consoles due to its improved GPU with support for upscaling and hardware-accelerated ray tracing. You will even be able to play native versions of some big-budgeted games on the
iPhone 15 Pro
.
The
Tensor G3
was previously expected to have a ten-core Arm Immortalis G715 GPU, which would have led to around a 15 percent improvement in graphics performance. Even with the G715, the
Pixel 8
would have been behind Qualcomm Snapdragon 8 Gen 2-powered phones in graphics performance. The Arm Immortalis-G715 also supports ray tracing.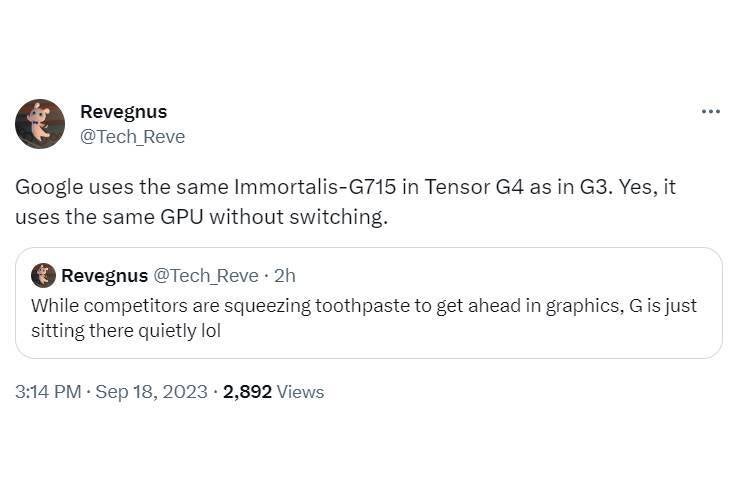 But none of those improvements are coming to the
Pixel 8
, assuming this rumor is true. We can look forward to other improvements though, such as a new 1+4+4 core layout with newer but not the latest ARM cores. It's also expected to be better at heat management, which is something that Pixel fans will definitely appreciate as the Tensor-powered Pixels heat up easily. 
Google has already shown us what the
Pixel 8
looks like and will fully reveal the lineup on October 4. The phones are expected to have slightly smaller screens than the outgoing models, a bigger main camera, a new ultrawide shooter, bigger batteries. and support for faster charging speeds.
منبع: https://www.phonearena.com/news/Pixel-8-will-be-woefully-behind-iPhone-15-Pro-in-gaming-performance-if-this-leak-is-true_id150735