For those unaware, the share sheet is the page that shows up when you want to share an image, a website, or certain content from your phone. When you press the share button, this page shows up showing all the platforms and people that you can share with. According to
Google News on Telegram
(via
9to5Google
), with changes to the Android share sheet taking place in Android 14, it seems that some of Google's own apps will stop offering a custom share sheet and instead use the default Android share sheet.
For example, Google Photos is planning to follow Google Chrome and drop its custom share sheet for the new native Android 14 menu. Chrome used its own share sheet for years but is also taking the opportunity in
Android 14
to help Google present a more unified software experience. The new Google Photos share sheet will include a preview on the top of the page with four shortcuts directly underneath (Send in Photos, Add to Album, Create Album, and Create Link). A Modify button in the upper right will allow you to select additional images.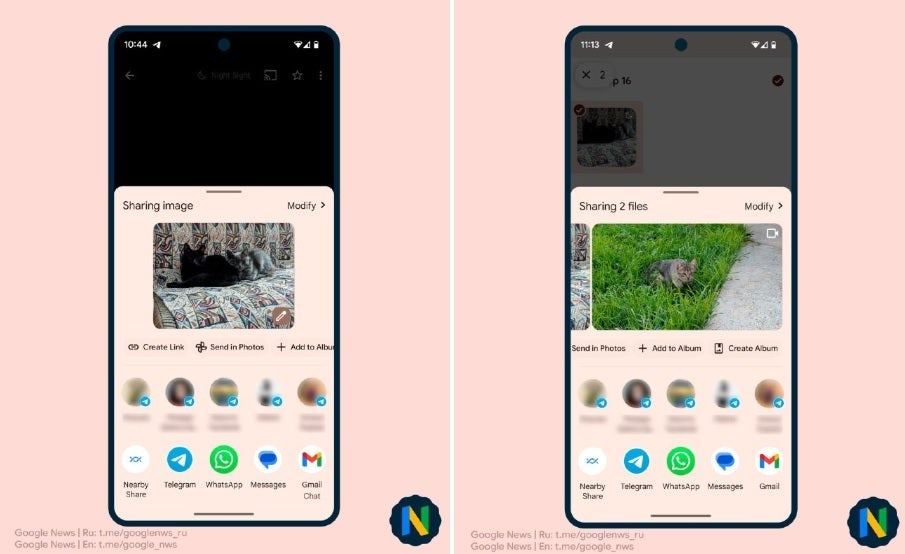 Google Photos will soon use the Android 14 native share sheet. Image credit-Google News Telegram
The bottom of the default share sheet includes the apps used frequently by the device owner with a row of Direct Share contacts on top. So regardless of whether you are sharing a picture by sending it directly to a pal's messaging app, or sharing a screenshot of your driver's license to an auto insurance company via Gmail, the process is easy and simple to use. So far, the new share sheet has not yet made it to my Pixel 6 Pro running
Android 14
Beta 5.3.
The release of
Android 14
has been pushed back from the originally expected August release to October 4th. The latter date is when Google will hold its next Made by Google event during which we will see the introduction of the Pixel 8, Pixel 8 Pro, the Pixel Watch 2, and two new colors (Porcelain and Sky Blue) for the Pixel Buds Pro.
منبع: https://www.phonearena.com/news/google-photos-default-android-share-sheet_id150836