In our reviews of the iPhone 15 Pro and 15 Pro Max, we found that the Apple new phones get uncharacteristically warm. Many other
users
and
reviewers
have also noticed that the phones heat up easily. Apparently, the reason behind this is Apple's lower standards for the A17 Pro chip.
The A17 Pro has been manufactured by TSMC using the 3nm process. It's the biggest manufacturing process jump since 2020's 5nm tech but performance gains aren't particularly impressive, with Apple saying that the CPU is 10 percent faster and the GPU is 20 percent faster.
According to one leak, the A17 Pro has the same architecture as the A16, and the performance improvements can mostly be chalked down to cache optimization, clock upgrades, and the extra GPU core.
On top of that, the iPhone 15 Pro gets toasty even with regular use, and that too pretty quickly. So, what's happening?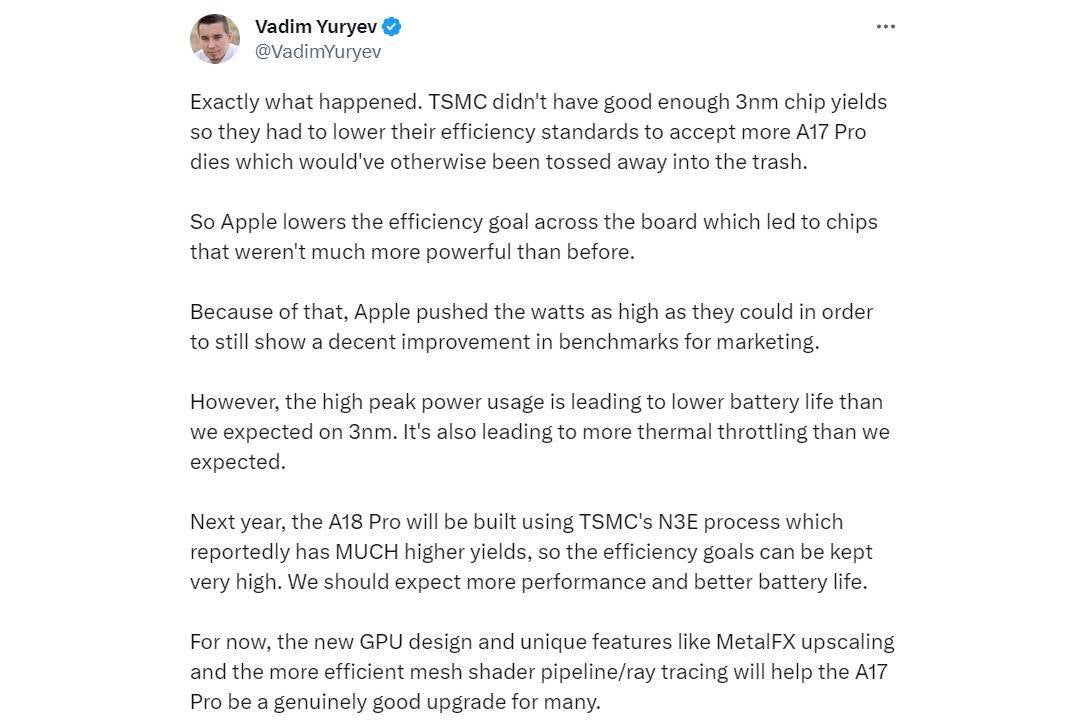 Max Tech's 
Vadim Yuryev
and leaker Revegnus seem to know why.
Revegnus tweeted back in March
that TSMC was struggling with the 3nm process and as a result, Apple lowered its standards for the A17 Pro chip. TSMC apparently had a low yield, meaning the percentage of non-defective chips or the chips that passed all the tests and functioned as intended was low.
Apple apparently ended up lowering its efficiency standards and accepted chips that otherwise would have been rejected. Yuryev thinks that Apple upped the wattage to achieve the benchmark results it wanted but this increase in power consumption may lead to a lower battery life. And that's not all.
Since the iPhone 15 Pro heats up so quickly, thermal throttling kicks in earlier compared to previous iPhones, meaning the performance drops rather quickly. This is done to protect the phone's components and also you, the user, as the phone can get as hot as 118.58F, which is a high enough temperature to cause a first-degree burn. It also doesn't help that the phone doesn't have a cooling solution.
Thankfully for gamers, the GPU packs other upgrades that could make the
iPhone 15 Pro
one of the best gaming phones of the year, including metal FX upscaling for improved graphics with less energy consumption.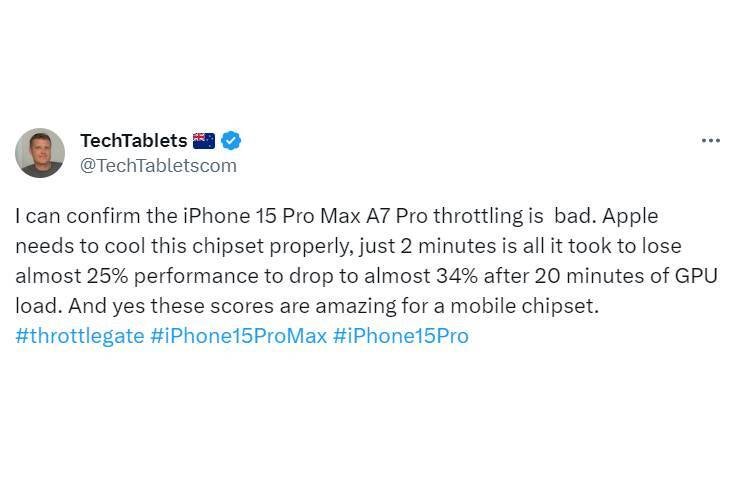 منبع: https://www.phonearena.com/news/Lower-standards-for-A17-Pro-could-be-behind-iPhone-15-Pro-thermal-throttling-issues_id150917