Intro
With phones lasting longer and new generations generally offering small improvements over the previous ones, the time which we spend with one phone before buying another has increased throughout the years. That being said, if we are talking about comparing the iPhone 12 from three years ago to the just-announced iPhone 15, than upgrading sounds like a sound choice to make.
We are here to pit these two iPhone models against each other and see how much Apple has improved its entry-level flagship in the last few years. Spoiler alert! The it might look like it is a very similar phone, but the
iPhone 15
is better almost everywhere across the board, from its highly improved camera system to its faster and more power-efficient chipset, and more.
Let's take a closer look.
iPhone 15

vs

iPhone 12

expectations:

4nm A16 Bionic chip vs 5nm A14 
Brighter screen
Dynamic Island replaces the notch
Higher base storage (128GB)
48MP main camera
Improved selfie camera
New camera features
Much better battery life
Same charging speeds
USB-C
Table of Contents:
Design and Size
You loose the notch and get a Dynamic Island
Even though the
iPhone 12
came out three years ago, there aren't any drastic changes with the
iPhone 15
. Well, with a couple of exceptions. The more obvious one is, of course, the death of the notch as we know it, which is now replaced by the Dynamic Island that debuted with the iPhone 14 Pro and 14 Pro Max.The second change is less noticeable in comparison, and funnily enough, is also a type of "death" — no more Lightning port. Yes, you heard that right, we have all lived to see the day Apple replaces the ancient Lightning Port with the more universal USB-C.
Apple has also included a new USB-C to USB-C braided cable with the
iPhone 15
, which we expect to be more durable than the rubberized USB-C to Lightning one that came with the iPhone 12.
Besides these two alterations, the glass back panel now has a matte finish to it, so we expect it to feel differently in the hand compared to the glossy back of the iPhone 12.
Display Differences
Not much to see here
Apple puts top-notch (no pun intended) displays on its phones, especially since the
iPhone 12
series, but there is still room for improvement. The new base iPhone still sports a maximum screen refresh rate of just 60Hz, which is disappointing when compared to some of the Android options out there in the same price range.
There are a couple of major differences though, with one of them being the Dynamic Island that replaces the notch, and the other being the higher 2000 nits peak brightness (vs 1200 nits on the iPhone 11). Otherwise, it is the same 6.1″ OLED.
Performance and Software
Noticeable improvements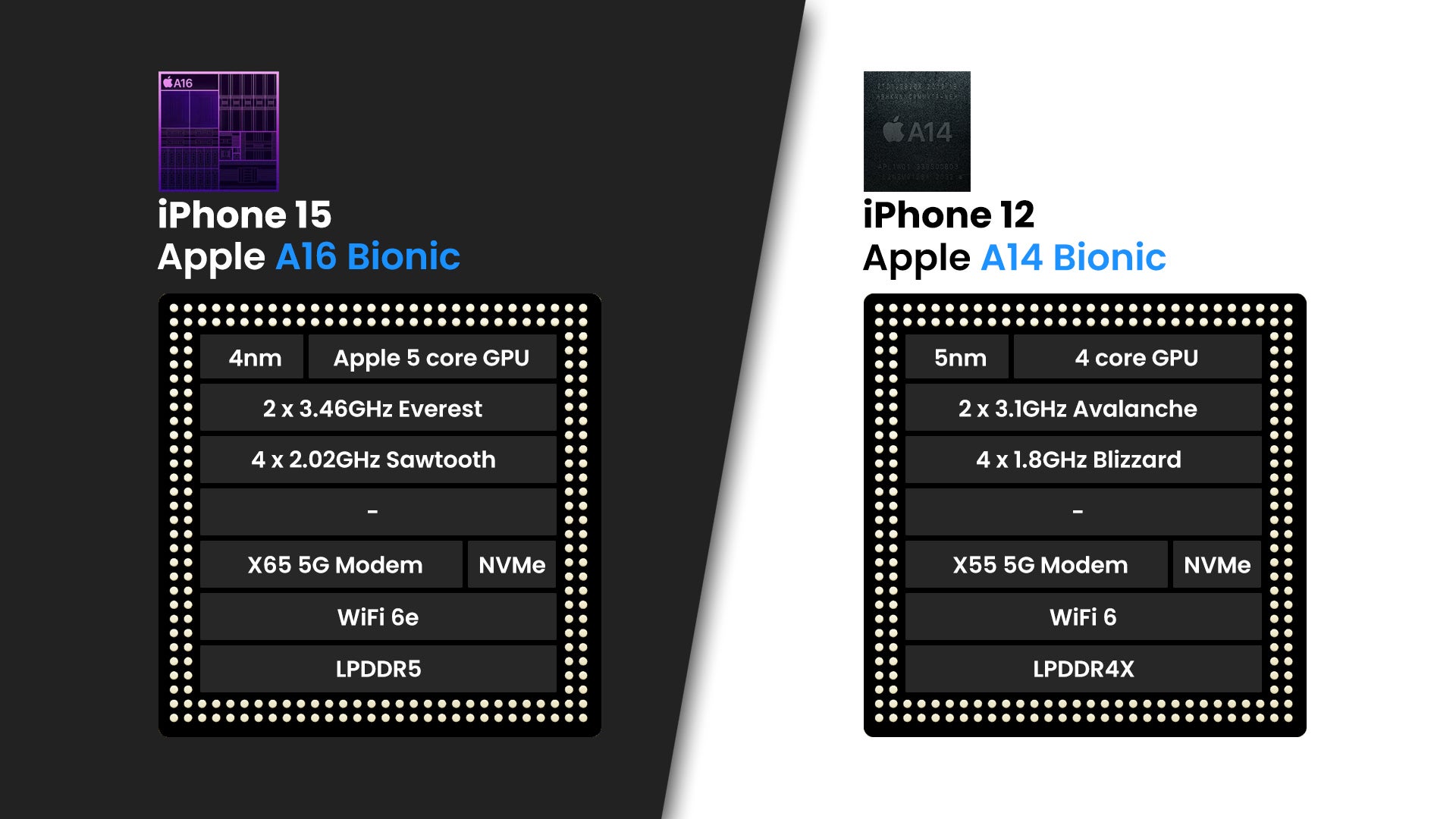 The
iPhone 12
comes with the A14 Bionic chipset, which is still a great performer even after three years, but it is  starting to show its age. The
iPhone 15
inherits the A16 that came with last year's Pro models, and it offers significant improvements in processing power, but even more so when it comes to graphics performance. On top of that, the A16 is much more power-efficient.Other small upgrades the
iPhone 15
has over the
iPhone 12
include Bluetooth 5.3 (compared to 5.0) and a faster, more power-efficient 5G modem.
Software-wise, the
iPhone 15
and
iPhone 12
 both support the iOS 17 . This means that the new features Apple announced during its WWDC developer conference such as the iMessage glow-up, the improved autocorrect, the new Journal app, and everything else are coming to both phones.
The one difference between the two is that the iPhone 15, being the latest model, will be much more future-proof when it comes to software updates. Still, the iPhone 12 has probably around 2-3 years of software support left, so it has plenty of life in it.
Camera
Stepping up the game
There are several key improvements that come with the the iPhone 15's camera system that make it a much better phone for taking photos and videos compared to the iPhone 12. Of course, most of them have to do with the new 48MP main camera.
Compared to the 12MP main image sensor on the iPhone 12, the 48MP one on the iPhone 15 can produce significantly higher levels of detail, resulting in sharper photos and videos with richer colors. Improvements in the Smart HDR mode also contribute to more true-to-life skin tones, brighter highlights, and darker shadows.
Having a 48MP main camera with a larger sensor provides the
iPhone 15
with a better 2x zoom that offers image quality very close to that of a dedicated telephoto camera, making the
iPhone 15
camera much more versatile compared to the iPhone 11's.Software-wise, Apple has also improved Night mode to make images taken in low-light appear with more vivid colors and higher detail. The more hefty upgrade, however, comes in the Portrait mode. The
iPhone 15
can create what Apple calls 'next-generation portraits,' where a regular photo can be transformed to a Portrait after it has been taken. What's more, you can also switch the focus of a portrait photo to a different person after the capture.
Audio Quality and Haptics
Audio quality and haptics should be mostly the same between the two phones, as there haven't been any significant improvements on either front since the launch of the iPhone 12. Apple also did not mention anything new during the iPhone 15 announcement.
Battery Life and Charging
Big gains, at least in the battery life segment
The
iPhone 12
and the rest of its lineup was not exactly popular with its battery life. Then the iPhone 13 came along and completely changed that, ending up as one of the battery life kings for that year. The
iPhone 15
inherits the same impressive battery life.
Charging, on the other hand, is the same even after three generations down the line. That means 20W maximum wired charging speeds, and 15W MagSafe wireless charging. Sadly, the new USB-C port is not utilized to improve this aspect.
Specs Comparison
Check out a summary of both the iPhone 15 and iPhone 12's specs below:
iPhone 15
iPhone 12
Size, weight
5.81 x 2.82 x 0.31 inches, 6.03 oz (147.6 x 71.6 x 7.8 mm, 171.0 g)
5.78 x 2.81 x 0.29 inches (146.7 x 71.5 x 7.4 mm)
5.78 oz (164.0 g)
Screen
6.1″ OLED, 60Hz, 2000 nits peak brightness, 1600 peak HDR brightness
6.1″ OLED, 60Hz, 1200 nits peak brightness
Processor
A16 Bionic
4nm
A14 Bionic
5nm
RAM, Storage
6/128GB
6/256GB
6/512GB
4/64GB
4/128GB
4/256GB
Cameras
48MP main
12MP ultra
–

12MP front

12MP main
12MP ultra
–

12MP front

Charging
USB-C
20W wired
15W MagSafe
Lightning connector
20W wired
15W MagSafe
Summary and Final Verdict
The iPhone 15, given that it is three years newer compared to the iPhone 12, definitely offers plenty of significant changes to justify an upgrade. You get a much better camera system, a more capable processor, but (arguably) most importantly — greatly increased battery life. Then there are all the little things such as the Dynamic Island and USB-C port (at least you don't have to use different cables anymore).
So, suffice to say, you probably won't be disappointed if you are decide to upgrade to the iPhone 15. Then again, if your iPhone 12 is still holding up well enough for you and you don't see anything too alluring about the new model, you should feel safe it won't let you down for at least one or two more years.
منبع: https://www.phonearena.com/reviews/iphone-15-vs-iphone-12_id5837