Intro
Samsung made its move with one of the best phones in 2023, the
Galaxy S23
, and now so has Apple with its own base flagship, the
iPhone 15
. The two old rival companies have fought for years to see who will grab a bigger bite from the phone market, and these two phones are their latest attempts. The question is how do this year's entry level flagships from both companies compare?
Of course, we are talking about two very distinct systems here (iOS vs Android/One UI), so there is always the matter of personal preference. Nevertheless, there are some notable differences, like an extra camera and faster screen refresh rate on the Galaxy S23, or the 
iPhone 15's much-improved 48MP main camera, which can make pitting these two phones against each other a fun 
exercise.Here is a closer look at what sets the two apart, and where the lines get blurred with similar specs and capabilities.
iPhone 15

vs

Galaxy S23

:

Same price
A16 Bionic vs Snapdragon 8 Gen 2
iPhone has 512GB storage option

Galaxy S23

comes with a third camera (3X zoom telephoto)
The S23 has double the display refresh rate of the iPhone
Same battery life and charging speed
iPhone's display has higher peak brightness
Table of Contents:
Design and Size
The safe route
The 
iPhone 15
and the 
Galaxy S23
are the two most mainstream flagship handsets on the market and their design has a big role to play in that. Both phones have a look to them that is understated, clean, and easily likable. Yes, you can call them boring, but boring also means that there is less likelihood for a buyer to be turned off by the design.Size-wise, the
iPhone 15 is 
in the same weight class as Samsung's
Galaxy S23, albeit slightly larger and heavier, coming in at 
5.81 x 2.82 x 0.31 inches and 6.03 oz vs the Galaxy's 5.76 x 2.79 x 0.30 inches and 5.93 oz.
The displays on both phones are flat, with the
iPhone 15
 continuing the boxy look Apple has been implementing since the iPhone 12. The
Galaxy S23
, on the other hand, has edges that are slightly more rounded making it more comfortable to hold. To be fair, Apple did mention new contoured edges where the aluminum frame meets the new back panel with a matte, soft finish, but we can't know for sure whether it feels different until we get to try it, so stay tuned!
One major visual difference is the iPhone 15's adoption of the Dynamic Island, which comes with a variety of software functionality. The Galaxy S23, however, boasts a less intrusive punch-hole cutout for the selfie camera.
Lastly, there is the USB-C port that finally replaced iPhone's outdated Lightning alternative. Now, it is only the Pro models that get some actual benefits thanks to this transition (faster transfer speeds), but at least the new USB-C braided cables come with all iPhone 15 models.
Display Differences
It's time to get with the times
Moving away from notches and islands, let's talk about the more important aspects of a phone's display. The Galaxy S23 comes with a 6.1-inch AMOLED screen that is capable of up to 120Hz screen refresh rate. Unfortunately, the iPhone 15 is still stuck only at a 60Hz refresh rate, the same as on all previous generations. The higher refresh rate remains exclusive for the Pro models.
One edge that the iPhone has over the Galaxy is its new 2000 nits of peak brightness and 1600 nits of peak HDR brightness. This should mean that the phone's display is easier to read in extremely bright conditions, and HDR media should show with even more nuances in the highlights and shadows. In comparison, the
Galaxy S23
comes with a 1750 nits of peak brightness.
Performance and Software
A16 Bionic vs Snapdragon 8 Gen 2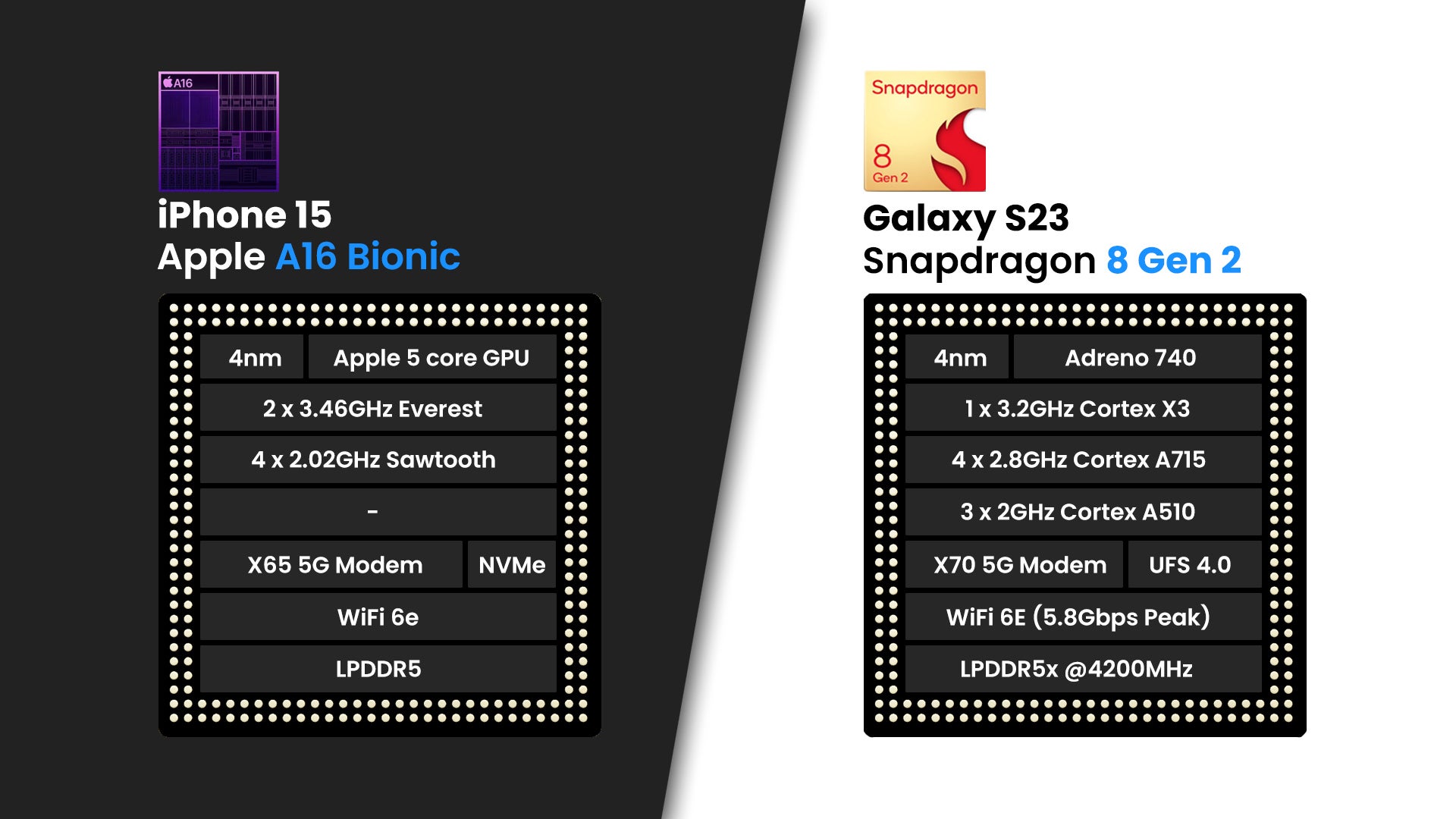 The
iPhone 15
has the A16 Bionic chipset that first appeared in the iPhone 14 Pro and 14 Pro Max last year. On the other side of the ring we have the best chipset Qualcomm has right now, which is the Snapdragon 8 Gen 2 (and it is even a specially tuned version for the S23 series).
Given that we are talking about different types of operating systems, however, comparing the two chips is a complicated and arguably irrelevant matter. The two might show different results in benchmark tests, but what's important is that both can handle real use-case scenarios in a similar manner.
The same can be said about the difference in RAM, which is 6GB on the iPhone and 8GB on the Galaxy. Both phones utilize RAM in their unique way, so the numbers here should not concern you too much. The good news is that the type of memory is the same fast LPDDR 5 memory.
The only difference between the two is the amount of maximum memory they come in, which is 256GB for the S23 and 512GB for the iPhone 15.
When it comes to software support, the iPhone takes the win with 5 years of major OS updates, while the Galaxy comes close with 4 years. One benefit of Android 13 and Samsung's One UI 5.1, though, is that it is generally more customizable compared to iOS.
That being said, the
iPhone 15
is launching with the iOS 17 update, which comes with new cool features like NameDrop that helps you share your contact information with others seamlessly. Apple is also doubling down on some of iOS' strongest points, like iMessage and FaceTime. There is even a new journaling app that uses AI to give you suggestions based on your experiences throughout your day.
Camera
More is… more?
The most obvious difference between the iPhone 15's and Galaxy S23's camera systems would be the additional 10MP telephoto shooter featured on Samsung's contender. Having that 3x optical zoom often comes in handy, and Apple has sorely been missing this hardware on its base iPhones so far.
This year, however, the iPhone 15 comes with a brand new 48MP main camera that enables a 2X sensor crop, delivering similar results to a dedicated telephoto camera. The new 48MP camera also comes with much improved levels of detail and overall camera performance, but we need to test it out first before reaching any conclusions, so stay tuned for our real-life comparison with the
Galaxy S23
.
Both phones come with 12MP ultra-wide and selfie cameras that support autofocus.
Audio Quality and Haptics
The Galaxy S23 came with noticeable improvements when it comes to its dual speakers and the audio quality they produce. Both phones should sound great when compared back to back, but we expect the iPhone 15 to be slightly better when we get to test it out, given what previous iPhone generations are capable of on this front. The same goes for the haptics.
Battery Life and Charging
Similar results
Battery life can vary depending on the scenario, but in general, we expect the iPhone 15's battery to last a bit more compared to the S23. That is mostly thanks to the power efficiency iPhones tend to come with thanks to their software optimization. There is also the A16 Bionic that is quite good at preserving energy.
As for juicing these babies up, the iPhone 15 comes with the same 20W maximum wired charging, despite its new USB-C port. The Galaxy S23 should be slightly faster in comparison, as it maxes out at 25W. Wireless charging speeds are the same for both, though, going up to 15W.
Specs Comparison
Here's a summery of the specs for both the iPhone 15 and Galaxy S23:
iPhone 15
Galaxy S23
Size, weight
5.81 x 2.82 x 0.31 inches, 6.03 oz (147.6 x 71.6 x 7.8 mm, 171.0 g)
5.76 x 2.79 x 0.30 inches (146.3 x 70.9 x 7.6mm)
5.93 oz (168.0 g)
Screen
6.1″ OLED, 60Hz, 2000 nits peak brightness, 1600 peak HDR brightness
6.1″ AMOLED
120Hz
Processor
A16 Bionic
4nm
Snapdragon 8 Gen 2
4nm
RAM, Storage
6/128GB
6/256GB
6/512GB
8/128GB
8/256GB
–
Cameras
48MP main
12MP ultra
–

12MP front

50MP main
12MP ultra
10MP telephoto

12MP front

Charging
USB-C
20W wired
15W MagSafe
USB-C
25W wired
15W wireless
Summary and Final Verdict
If we take a birds-eye view of this battle between the
iPhone 15
and
Galaxy S23
, we can quickly see that — at least on paper — the S23 offers more for your money. A dedicated telephoto camera, slightly faster wired charging, and arguably the most important being that fast 120Hz screen refresh rate.
All of these perks that come with Samsung's model, however, can easily go straight out of the window if you are a fan of iOS and Apple's ecosystem of products and services. Also, we still don't know which main camera will deliver better results when we pit the two against each other.
If you don't care whether you are team Apple or team Samsung, though, the Galaxy S23 sounds like the better bang for your buck device for now, at least based purely on the spec sheets. That said, if you are still unsure which one you would like more, it might be best to wait for our full comparison after we've had time with the iPhone 15 and put it through its paces.
منبع: https://www.phonearena.com/reviews/iphone-15-vs-galaxy-s23_id5838