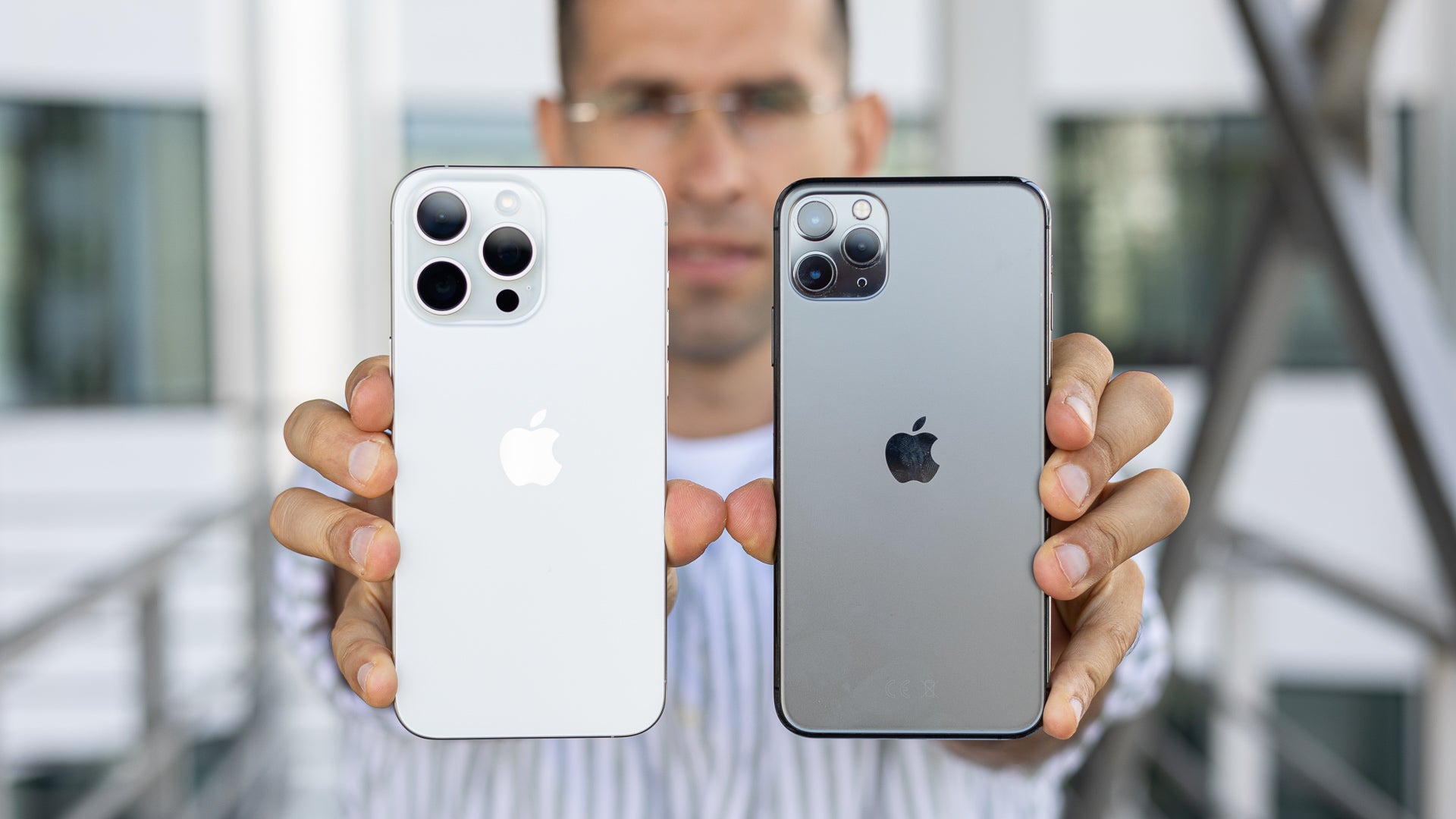 Intro
Apple has just unveiled the brand-new iPhone 15 series, and we are back to asking the age-old question — "Should I upgrade this year?". It's a valid conundrum — iPhones get software support for years on end and they aren't exactly cheap. So, if yours is still good — why shell out for a new one?
For example — the good ol' iPhone 11 Pro Max will still get
iOS 17
, which is awesome. The old flagship is now nearing its 4th anniversary, so it should still get iOS 18 next year, when it will call it quits.
But it's not all about software — a lot has changed since the 11 series were released. iPhone Pro models now have 120 Hz screens, much improved cameras, a massive performance bump, longer battery life, a new design, MagSafe… the notch (errr, it's now an Island)! 
Now that the iPhone 15 Pro Max is official, we have plenty of info and educated speculation go to on when trying to answer the question — should you pre-order one to upgrade that aging iPhone 11 Pro Max?
iPhone 15 Pro Max

vs iPhone 11 Pro Max differences:

Full redesign — boxy and rectangular, versus the rounded corners of iPhone 11
MagSafe compatibility — welcome to the world of magnet accessories!
120 Hz screen vs 60 Hz screen
HDR10 screen and much higher brightness on

iPhone 15

Dynamic Island vs Notch
Titanium frame on the 15 for a premium touch
Mute switch is upgraded to Action Button
A17 Pro will be a significant upgrade over A13 Bionic
256 GB base storage vs 64 GB base storage
Upgraded 48 MP main camera
New 5x zoom
Overall improved low light performance of cameras
USB Type C with USB 3 speeds instead of Lightning
Massive battery capacity upgrade
Design and Size
Welcome to the future past
The iPhone 12 series changed the overall design of the iPhones by adding right angles, flat frames, and a magnetic array on their back to make them compatible with MagSafe accessories (stands, charging banks, wireless chargers, magnetic wallets). The iPhone 13 series made the notch (the selfie camera cutout at the top of the screen) smaller. And the 14 series, particularly the iPhone 14 Pro and iPhone 14 Pro Max, replaced the notch with a pill-shaped cutout that is masked by animated widgets. Apple calls this the Dynamic Island and it's basically a way of improving multi-tasking with the iPhone.
Yeah, you have a bit of catching up to do.
The iPhone 15 Pro Max does, of course, inherit all of those features and add a slight facelift — a thinner bezel around the screen. Plus, it is now out of titanium and comes with the brushed titanium finish to boot.
The signature mute switch that you have on the side of the iPhone 11 Pro Max is also gone, making room for a new "Action Button". By default, it's still a mute toggle, but it can now be programmed to launch your favorite apps or toggle phone features like the flashlight.
And, would you look at that — the iPhone 15 Pro Max comes with a USB Type-C port, thanks to the EU regulators basically forcing Apple to switch. It will now support USB 3 speeds with an *optional* USB 3 cable. Why is that a big deal? Because it's about 20 times faster than the old USB 2.0 standard, which Lightning still operates under. Anyone who has tried to copy videos from their iPhone to their Windows PC knows why this is a pain — it's basically impossible due to the slow transfer and the 4K videos being huge.
Display Differences
The Pro Max screen size is 6.7 inches — that's basically written in stone. And Apple seems to be quite happy with the 1290 x 2796 pixel resolution, and that didn't budge. The
iPhone 15 Pro Max
still has an OLED panel, just like the iPhone 11 Pro Max, but it has a higher refresh rate — 120 Hz ProMotion, as first seen on the iPhone 13 Pro.
But a much more capable OLED panel — Apple's iPhones can now display HDR content (you need high brightness to do that), and are much more visible under direct sunlight. The iPhone 15 Pro hits 2,000 nits of peak brightness, which is 2.5 times the iPhone 11 Pro Max's 800 nits. The latter is OK to view under direct sunlight, but obviously doesn't have the headroom of the 15 Pro Max.
Also, we have an Always On Display now — the
iPhone 14 Pro
introduced it and the
iPhone 15
Pro inherits it. Basically, even when the phone is in standby, some pixels on the screen remain lit to show you notifications or even feed you real-time info (refresh rate is dropped to 1 Hz, for battery saving reasons, of course).
Performance and Software
Nanometers of difference
All hail the Apple A17 Pro — the first 3 nm SoC on a smartphone. Quick nerd talk — the nanometers here signify the size of the transistors in the chip. Obviously, when they are smaller you have room for more transistors, which in turn gives you a more energy-efficient chip. Sure… we are literally talking about nanometers. But, when we consider that the Apple A13 Bionic inside the iPhone 11 Pro Max is built on a 7 nm process, we realize that the A17 has enough room to double its energy-efficiency over the 2019 model.
Quick non-nerd talk — it will go vroom faster and it will do it for longer.
The A17 Pro also offers hardware-accelerated ray tracing and Apple touted its gaming prowess. It even dragged some big names into the presentation, like Ubisoft's The Division Resurgence, Assassin's Creed: Mirage, and Capcom's Resident Evil.
As for software, both of these will get iOS 17, which will be rolling out on September 18th. It comes with the new Journal app, which helps you… well, journal — with smart suggestions and reminders on what you were doing that day to get you started, new iMessage quality-of-life improvements, Contact Posters to make sharing contact details easier (think of it as your iPhone card), better speech-to-text writing, and more.
Camera
Eyes forward, apertures open
Photos from the iPhone 11 Pro Max are… not bad by today's standards, but definitely show their aging hardware. The 12 MP sensor is long in the tooth, doesn't capture as many details as the contemporary models, and doesn't do as well in low light as more recent iPhones do.
The iPhone 14 Pro Max finally gave us a 48 MP main camera sensor, which captures a lot more detail, and the ability to export RAW photos so shutterbugs can play with them in post. The iPhone 15 Pro Max uses the same sensor but improves on the image processing pipeline with an upgraded Photonic Engine and HDR that should give us more realistic skintones, as per Apple.
And, of course, there's a new zoom camera. The iPhone 11 Pro Max has a 2x telephoto lens, the
iPhone 15 Pro Max
jumps to a 5x tetraprism lens for optical zoom. The latter still covers zooms up to 4.9x by cropping into the high-res main camera sensor. 
While on the topic of lenses, Apple says it's used a new coating to reduce lens flare on the iPhone 15 Pro cameras — we'll see how much that helps. And, of course, each year we get small improvements in low light performance for both photo and video — this year is no exception, and by now, you will definitely feel an upgrade when jumping from iPhone 11 Pro Max to 15 Pro Max.
There's also the new Action Mode for video, which is encredibly stable and allows you to capture highly dynamic footage, and the new Pro Mode that gives you more control over the camera and the ability to shoot in RAW. These things have been on the iPhones for a while, but if you are still on an iPhone 11 — you've missed them.
Audio Quality and Haptics
iPhone speakers on the Pro Max models are usually fantastic. Testing an iPhone 11 Pro Max vs an iPhone 14 Pro Max does show improvement — less boxiness, less distortion in the high range, and slightly fuller body. Surely, the iPhone 15 Pro Max will provide a similar upgrade over your iPhone 11 Pro Max.
As for haptics —the Taptic engine is still the same it was years ago, which is not a bad thing. Apple basically got haptics down with the iPhone 6 and, since then, it has been rinse and repeat. Excellent vibration feedback — why change it?
Battery Life and Charging
Surely, your battery is getting old?
While the iPhone 11 Pro Max had a pretty good battery life (day and a half maybe?), if you have an old unit, your battery has probably degraded a bit by now. If that's the case, you should see a huge leap in endurance when you go to the iPhone 15 Pro Max. 
Apple doesn't share battery capacity, but the iPhone 15 Pro Max is listed to last 29 hours for video playback. By comparison, the iPhone 11 Pro Max specs page says 20 hours here. So, obviously — expect a leap in endurance.
Of course, Apple has also improved its tech over the years with more efficient processors.
Apple A17
 silicone inside the
iPhone 15 Pro Max
is supposed to be built on a 3 nm process, which should make it significantly more efficient than the 7 nm Apple A13 Bionic.
While iPhones don't participate in the fast charging race, you will also notice a small upgrade here. The iPhone 11 Pro Max accepts up to 18 W on a wire and 7.5 W wirelessly, the
iPhone 15 Pro Max
draws 20 W on the wire and 15 W wireless charging on a MagSafe charger (still 7.5 W on any other Qi charging puck, but it is ready for the new Qi2 standard).
Specs Comparison
iPhone 15 Pro Max
iPhone 11 Pro Max
Size, weight
6.30 x 3.02 x 0.32 inches
(159.9 x 76.7 x 8.25 mm)
7.80 oz (221.0 g)
6.22 x 3.06 x 0.32 inches
(158 x 77.8 x 8.1 mm)
7.97 oz (226.0 g)
Screen
6.7″ OLED
120 Hz ProMotion
2796 x 1290 pixels
6.7″ OLED
60 Hz
2796 x 1290 pixels
Processor
A17 Bionic
3 nm
A13 Bionic
7 nm
Storage options
256 GB
512 GB
1 TB
64 GB
256 GB
512 GB
Cameras
48 MP main
12 MP ultra
12 MP 5X zoom

12 MP front

12 MP main
12 MP ultra
12 MP 2X zoom

12 MP front

Battery
Unknown
3,969 mAh
Charging
USB-C
20 W wired
15 W MagSafe
Lightning
18 W wired
7.5 W wireless
Well, that's quite a jump isn't it? Yes, if you have an iPhone 14 Pro Max, you won't feel compelled to upgrade. But coming from an iPhone 11 Pro Max, you will feel a definite jump in performance, battery life, and camera imagery.
Summary and Final Verdict
So, is it time for iPhone 11 Pro Max owners to bite the bullet and press that preorder button? There are a lot of reasons to — the new design, MagSafe, the 120 Hz ProMotion screen, the 48 MP camera upgrade, and the performance and battery bump you will definitely feel. If you are still happy with your iPhone 11 Pro Max, we wager it still has at least a year of life left in it. Otherwise — time to smash that piggy bank!
منبع: https://www.phonearena.com/reviews/iphone-15-pro-max-vs-iphone-11-pro-max_id5844