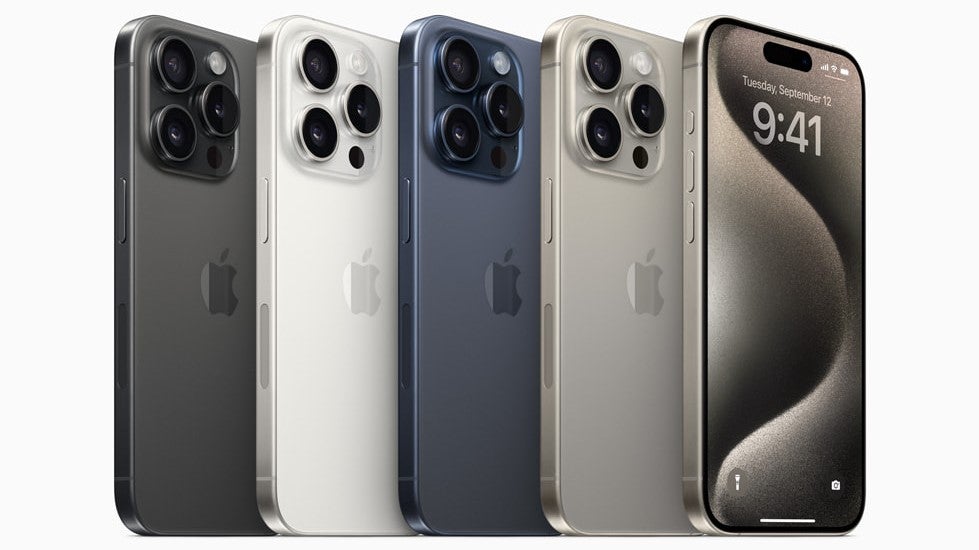 The iPhone 15 Pro features titanium sides and this switch away from stainless steel has made the premium models up to 9 percent lighter. Although appreciable, that doesn't sound like a huge difference but those who had hands-on time with the phones say they feel significantly less heavy than the iPhone 14 Pro.
Lean Crew's
 Dr. Drang (via
MacRumors
) has explained why the phones are more manageable.
The
iPhone 15 Pro
weighs 187 grams, which makes it 9 percent lighter than its predecessor. The iPhone 15 Pro Max is 221 grams, so it weighs 8 percent less than the iPhone 14 Pro Max.
Despite only a single-digit change in weight, the phones are noticeably less weighty. Dr. Drang says there are two reasons behind that. Firstly, even though your brain may perceive an 8 to 9 percent reduction in weight as negligible, the drop is significant enough to create a lighter sensation in your hands.
The other reason relates to something called the moment of inertia. It's the measurement of an object's resistance to change in its rotation direction. When you are using something, such as a phone, the moment of inertia is nearly as significant as mass as it affects the handling of an object. It depends on an object's mass as well as the distribution of the mass in relation to the axis of rotation.
Apple has used titanium for the iPhone 15 Pro's frame instead of stainless steel, so the weight reduction is not evenly spread, rather it's concentrated on the sides. That's why the moment of inertia has reduced more than it would have if the weight decrease were distributed uniformly.
The moment of inertia has reduced by 14 to 15 percent on the longer side, making it easier to turn the iPhone 15 Pro. This gives you the impression that the phone is a lot lighter than the iPhone 14 Pro than it actually is.
In short, the shift from stainless steel to titanium has reduced mass at the perimeter, reducing the 'moment of inertia more than a uniform reduction in mass would have.' This makes it easier to handle the iPhone 15 Pro.
The
iPhone 14 Pro
might be a fantastic phone, but it's too heavy to be used comfortably, especially for those with fragile hands (*
cries in skinny
*). The
iPhone 15 Pro
's reduced heft, coupled with the fact that it feels lighter than it is, will surely help it become one of the best phones of 2023.
منبع: https://www.phonearena.com/news/iPhone-15-Pro-feels-lighter-than-it-actually-is-due-to-reduced-moment-of-inertia_id150711