Now that the iPhone 15 series is official, the first finalised public version of
iOS 17
is coming to all eligible iPhones. We've had all summer to play with the beta builds of Apple's new software. It adds some valuable quality-of-life improvements, some new apps and features, but mostly looks the same. For a deep look into what's new, check out the iOS 17 preview is here.
Remember to:

turn off your Beta Updates toggle in the Settings, if you were using the Beta up until now! This will ensure that you download the latest public version and not jump to an experimental patch instead!
You should be getting iOS 17 / iPadOS 17 today, the 18th of September. It will either download automatically, or you can force a download by going to Settings -> General -> Software Update. More on that and which iPhones will be supported by iOS 17 below:
iOS 17 what is new:
Choose how you appear when you call people with personal Contact Poster
Live Voicemail – see a voicemail transcript as its happening
Better location sharing in iMessage
Live Stickers for iMessage – pick up objects from your Photos
New Journal app for memorabilia and mental wellness
StandBy — iPhone becomes smart clock, Home hub while on charger
Upgraded Shortcuts app
iOS 17

 release date
The iPhone 15 series was announced on the 12th of September and, as usual, 
iOS 17
is coming with it. Well, kind of. The iPhones will be shipping out on Friday the 22nd, but
iOS 17
has begun rolling out today, the 18th of September.
| Operating System | Release Date |
| --- | --- |
| iOS 13 | 2019, September 19th |
| iOS 14 | 2020, September 16th |
| iOS 15 | 2021, September 20th |
| iOS 16 | 2022, September 12th |
| iOS 17 | 2023, September 18th |
How do I install

iOS 17

?
When the new software is released, Apple pushes it out to all eligible iPhones. You can either do nothing and let your iPhone download it in inactive hours (and while charging), or you can proactively go to Settings -> General -> Software Update and force the download.
iOS 17

beta
For a while now, Apple has allowed users to test-run its operating systems pre-release. Where do you go for an iOS 17 beta download?
It's quite simple, really. For the iOS 17 public beta, you will need to visit
beta.apple.com
, sign in with your Apple ID, and enroll the device you want to use in the beta program. Once that has been done, you will notice that your device has a toggle for Beta Updates. It's found in Settings -> General -> Beta Updates.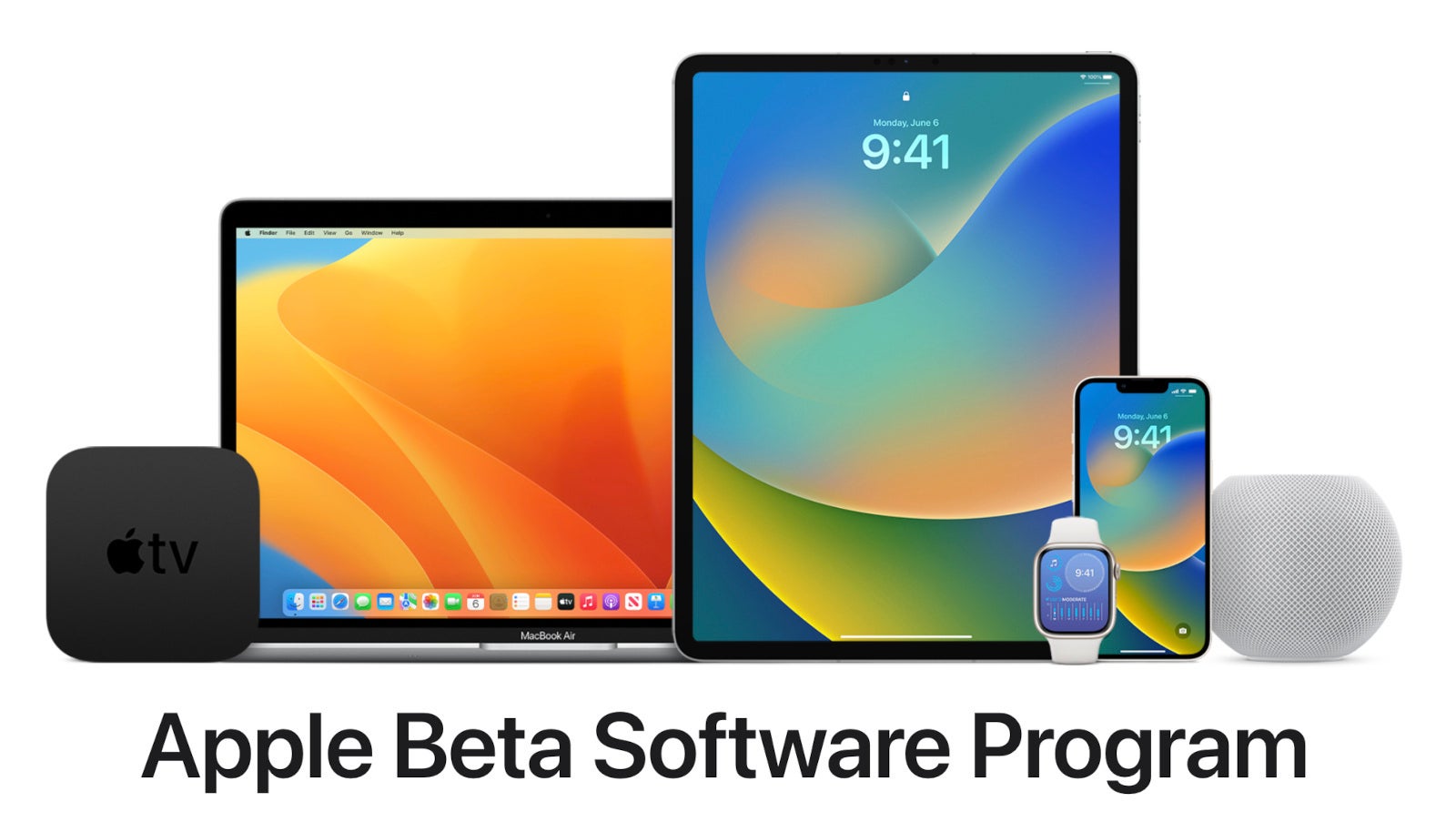 How to remove

iOS 17

beta?
It is generally advised to be using the latest public version on your phone — if your device remains registered for the beta program, it will continue to get experimental patches, not the actual stable builds of iOS 17.
Thankfully, it's extremely easy to opt out of it. Just go into Settings -> General -> Software Update -> Beta Updates, and choose "Off". A restart may be required and then your iPhone will download the latest public build once it's out (you can't roll back to a public build that came earlier than your latest beta patch, so be quick!).
Which iPhones will support

iOS 17

?
iPhones usually get 5 years of software updates (with iPhone 6s being a shining exception here). It's the same case with
iOS 17
, as Apple announced that it will be available for devices from the iPhone XS generation upwards. This includes:
iPhone XS and iPhone XS Max
iPhone XR
iPhone SE 2, iPhone SE 3
iPhone 11, iPhone 11 Pro and Pro Max
iPhone 12 mini, iPhone 12, iPhone 12 Pro, and iPhone 12 Pro Max
iPhone 13 mini, iPhone 13, iPhone 13 Pro, and iPhone 13 Pro Max
iPhone 14, iPhone 14 Plus, iPhone 14 Pro, and iPhone 14 Pro Max
All of these devices should get their update in a timely manner, as soon as
iOS 17
becomes official. This means that this year marks the end-of-updates cycle for the iPhone 8, iPhone 8 Plus, and iPhone X.
Which iPads will support iPadOS 17?
iPadOS is basically a fork of iOS, so all of the info here pertains to the new iPad operating system as well. Here are the iPads that will be able to update to iPadOS 17 when it comes out (and they also support the current iPadOS 17 beta builds):
iPad Pro 10.5 and iPad Pro 12.9 gen 2 (old design 2017 models)
iPad Pro 11 and iPad Pro 12.9 (redesigned 2020, 2021, 2022 models)
iPad Air 3 (old design, 2019)
iPad Air 4 and iPad Air 5 (redesigned 2020 and 2022)
iPad mini 5 and iPad mini 6 (old design 2019 and redesigned 2022)
iPad 6th gen and up (old design from 2018 and up, redesigned 2022 model)
Basically, iPads made in 2018 and up are covered. The exception being the iPad Pros from 2017 — these will also get the iPadOS 17 update, meaning they will be getting their 6th year of iOS support!
iOS 17

new features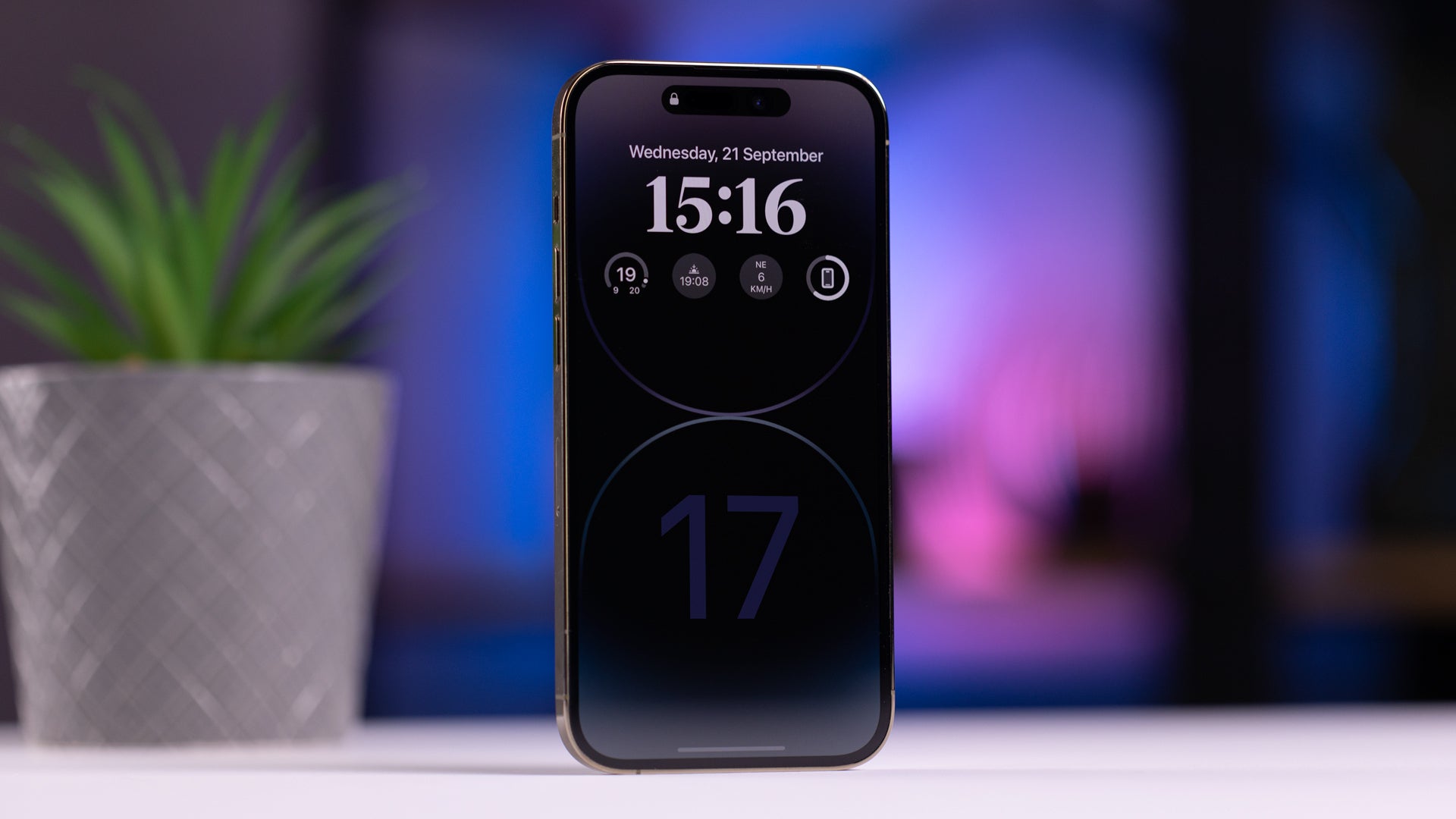 New in Phone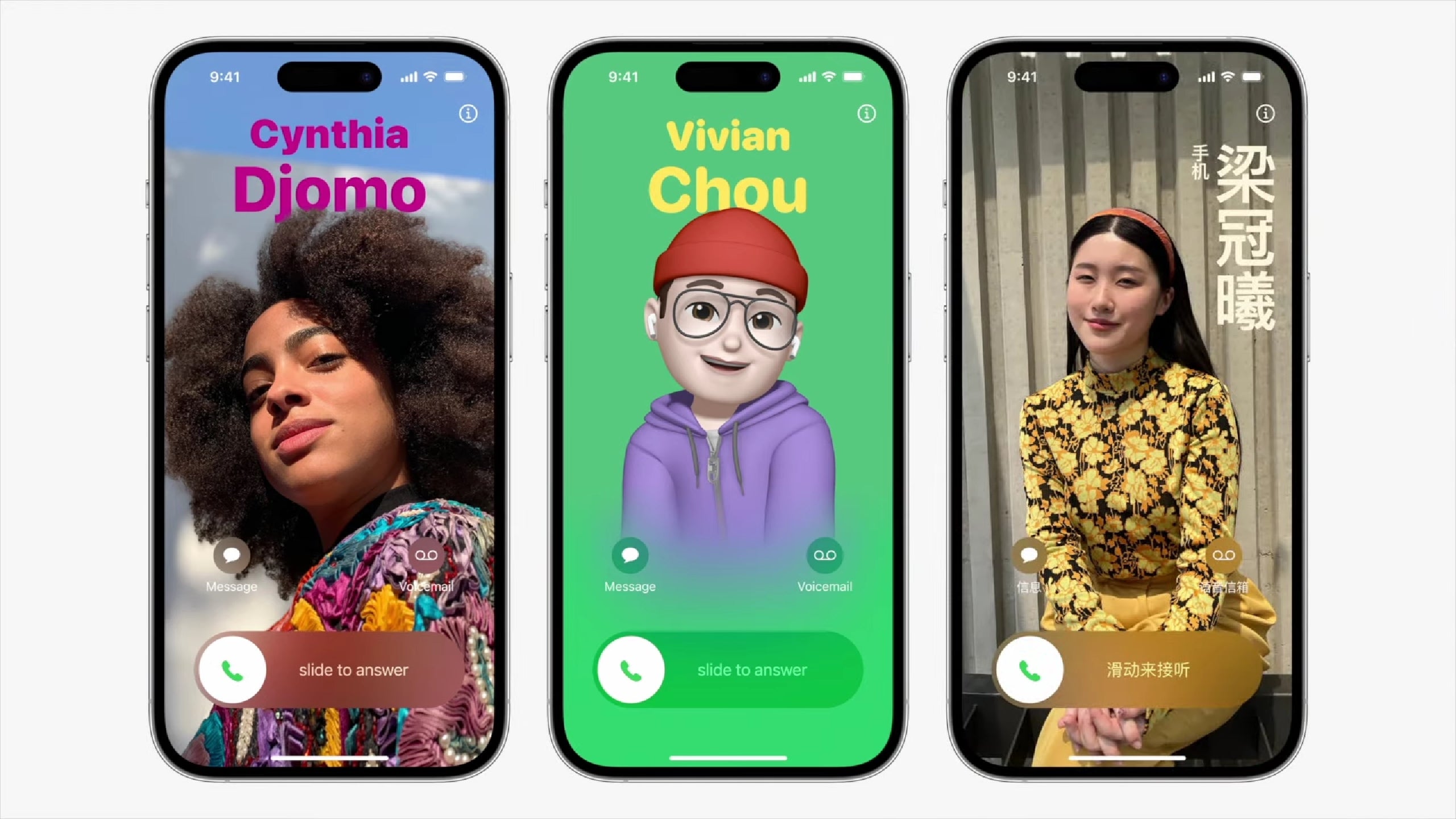 Contact Posters — you can now choose how to appear on the other person's screen as you call them. Customize a full screen calling card with a photo, emoji, and more. Also supported in 3rd party caller apps
Live Voicemail — as someone is leaving a voicemail for you, their message gets transcribed to text on your lockscreen in real time. Choose whether you wish to pick up after you see what it's about
New in FaceTime
Leave a video message — if recipient isn't around to pick up, just leave them a quick video message, like it's a voicemail
Added reactions and effects — heart reactions, laser beams, fireworks, and other effects can be triggered with gestures. Also supported in 3rd party video apps
New in iMessage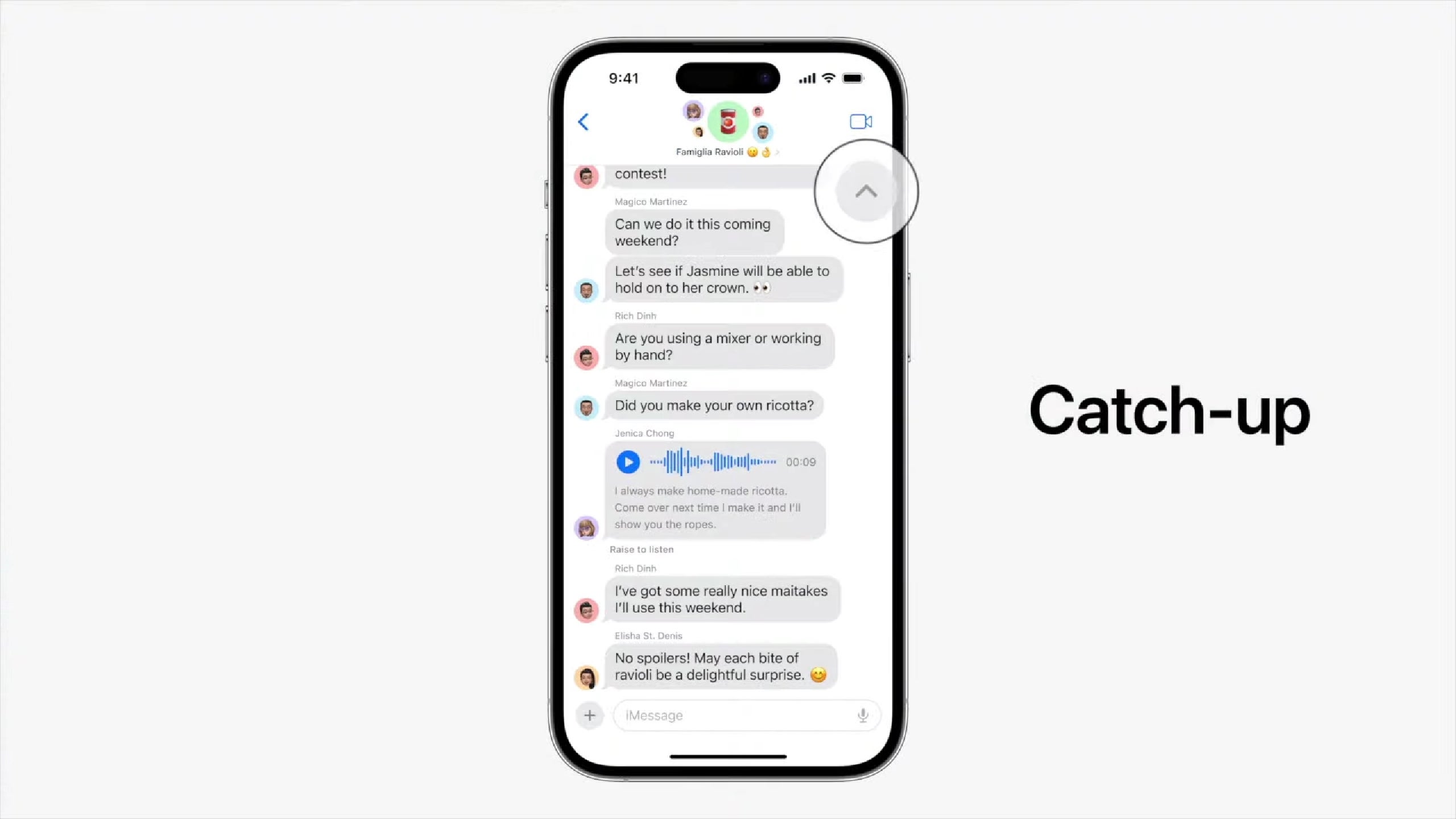 iMessage isn't getting the huge rework that was rumored, but a bunch of useful quality-of-life improvements:
Catch-up — tap the arrow to automatically scroll up to the last message you saw in the conversation
Audio message transcriptions — we don't all have the luxury of just listening to voice messages in a chat, but some people insist on leaving them constantly. With this feature, view a text transcript of the message
Swipe to reply — easy way to quote and reply to a specific message in the conversation
Live Stickers — tap and hold on an object in any photo in Photos and save it to your Live Stickers drawer. Use it to spice up a conversation
Location sharing — an inline live widget shows your location in real time. Set up auto-notifications for close ones to receive when you get home safely.
New Journal app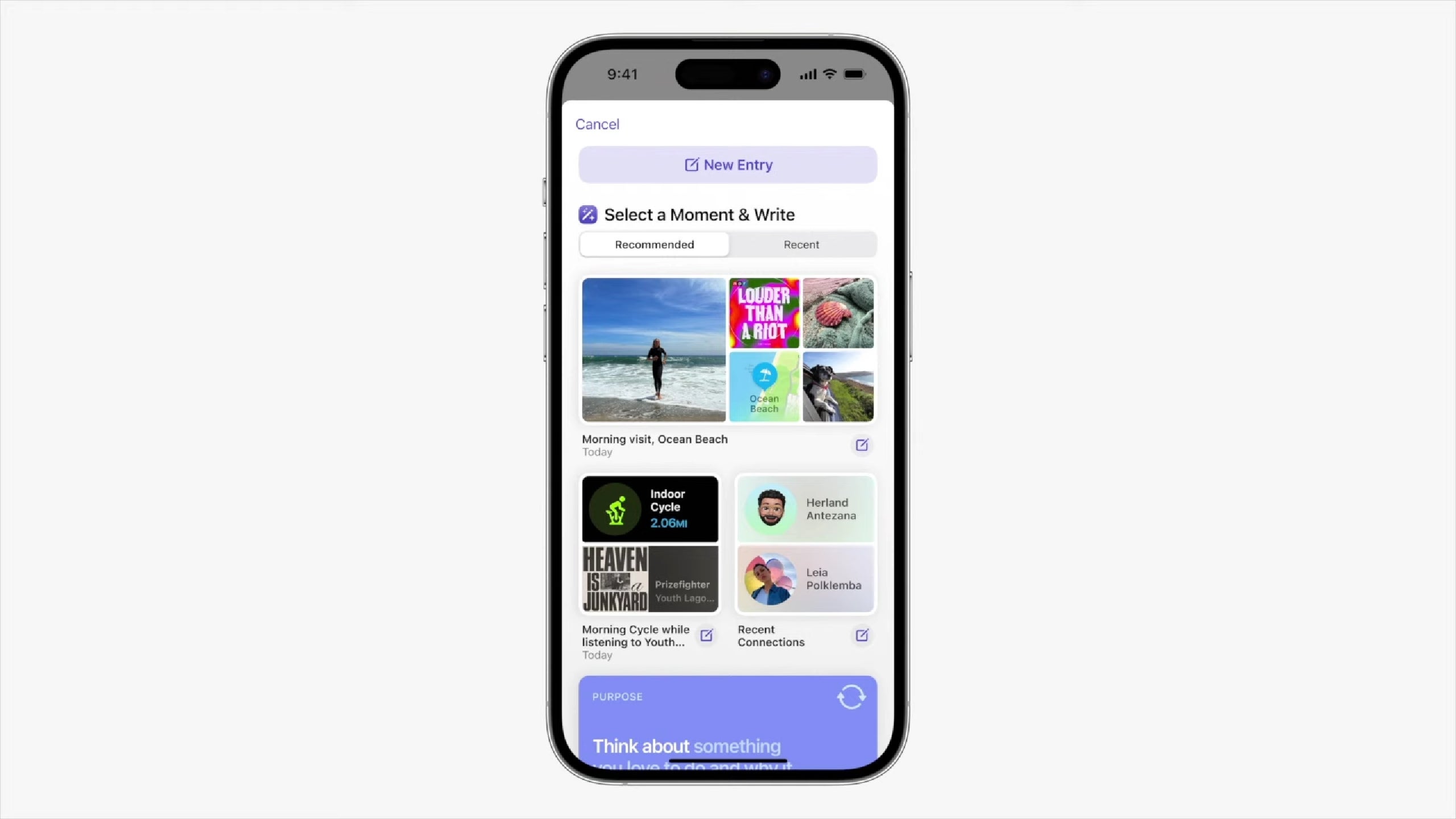 They say that journaling has many positive effects — for mental wellness, for growth and self-actualization, and for pleasant memorabilia that you can enjoy whenever. But how does one even begin to journal?
This app aims to be your one-stop-shop and guide to journaling. As you open it up, you will be greeted with suggestions — do you want to save what music you were listening today, the photos you took, or the places you visited? Of course, you can pick all three, and more. Then the journal gives you a few guiding questions to help you put your thoughts to words.
And, if you really want to get into it, you can set a notification to remind you to write in your Journal every evening. It should pop up at around bedtime.
StandBy lockscreen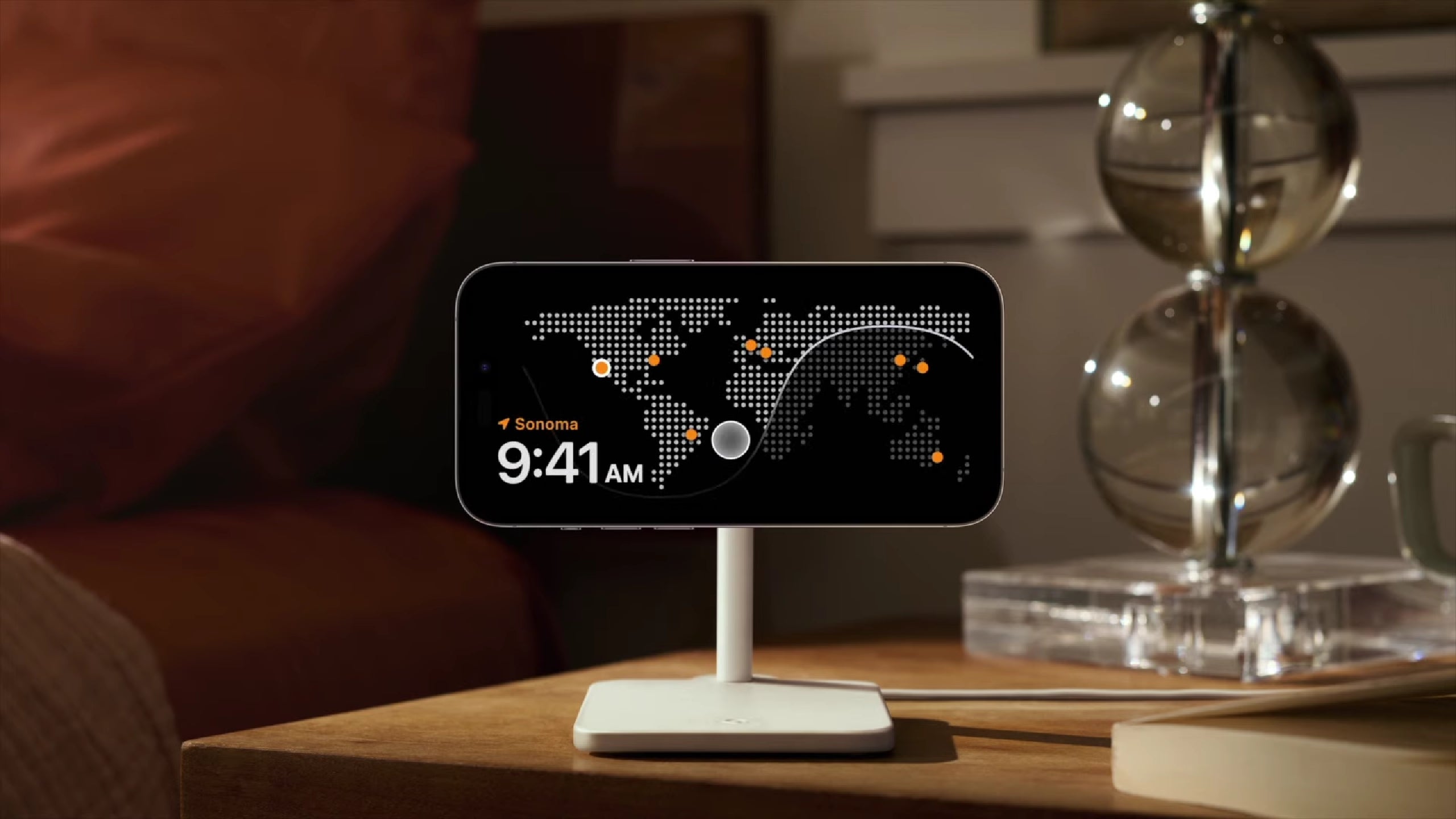 Put the iPhone up on a MagSafe stand and rotate it in horizontal orientation. This will change the UI to the new StandBy mode, filling the screen with big, bold widgets. There are multiple styles to pick from — whether you want it to be a clock, or to display smarthome controls, the live widgets for the sports game, or rotate through your favorite photos like it's a digital frame.
NameDrop and improved AirDrop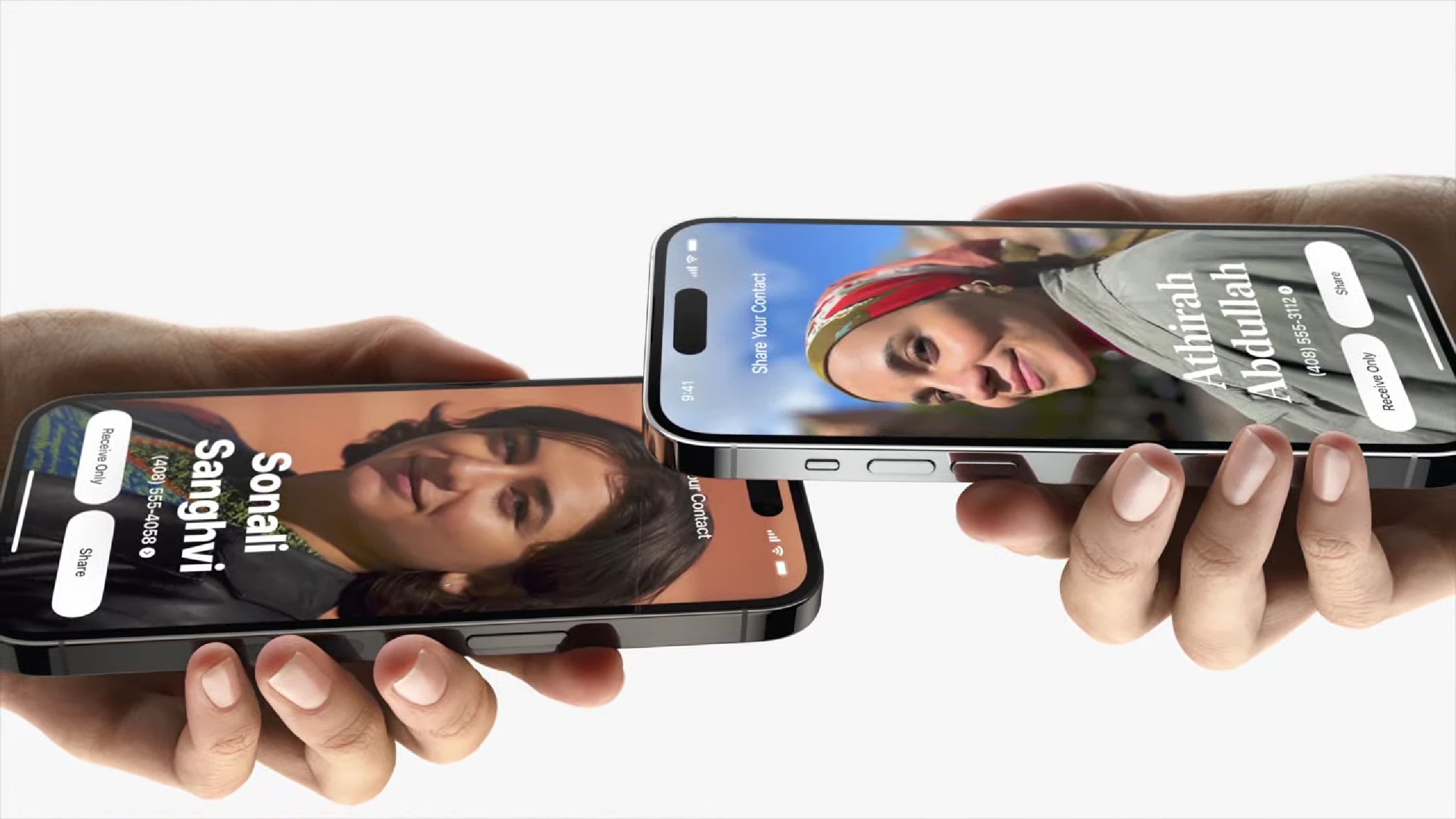 You will now be able to share things across iPhones much more intuitively by simply bringing your phone next to the one you wish to drop to. For example, you can share your contact details in the form of a Contact Poster by simply bringing your iPhone close. That feature, specifically, is called NameDrop.
Additionally, you will be able to initiate SharePlay or AirDrop file sharing by just bringing the devices together.
Improved Autocorrect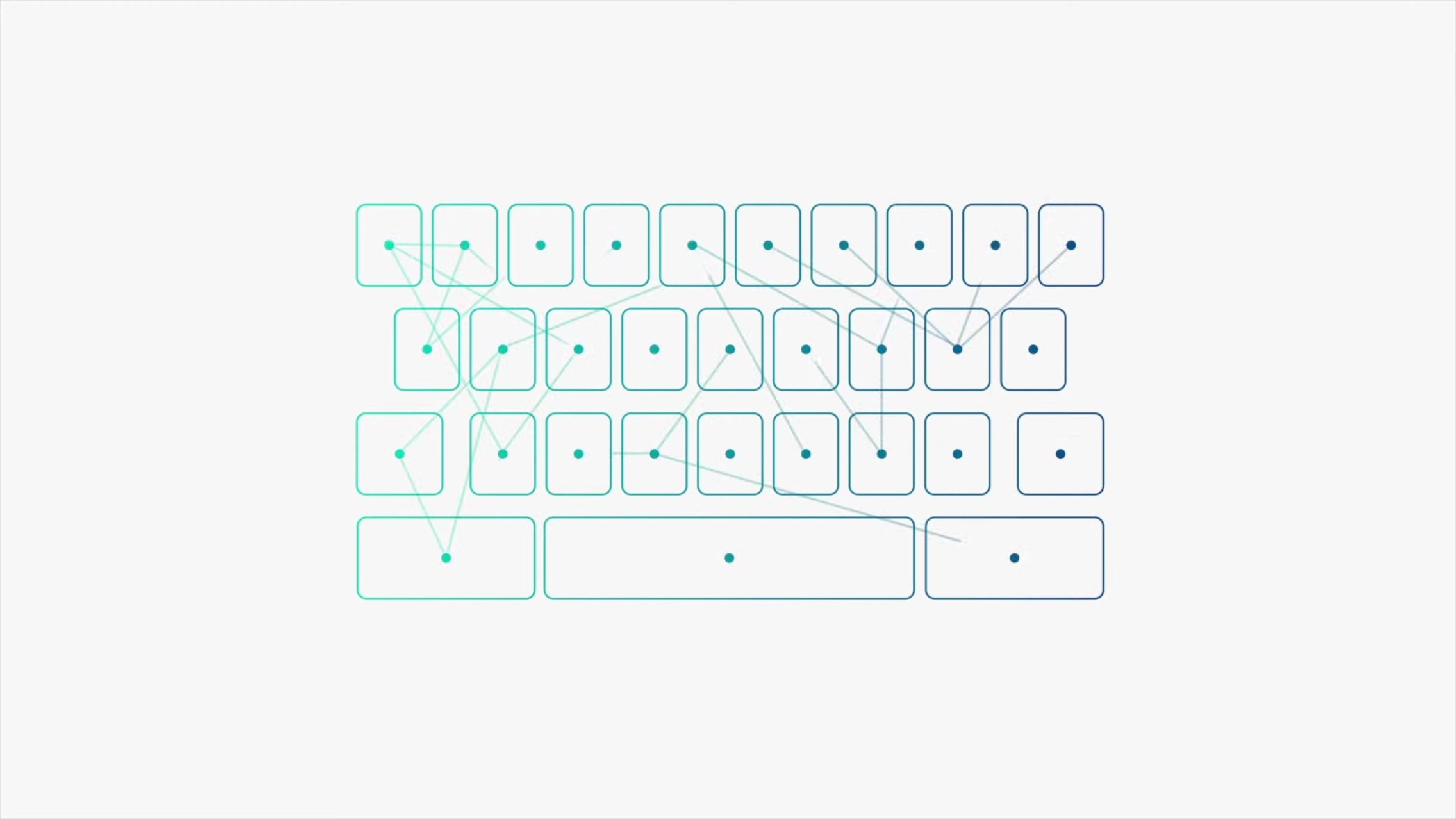 Apple has improved the autocorrect algorithms further, working on analyzing whole sentences and your own preferred ways of expressing yourself. Autocorrect will now correct words to what you actually wanted to type, not to what it thought was dictionary-appropriate. Also, it will pick up on phrases and attempt to deliver better word predictions.
Upgrades to Shortcuts
Shortcuts doesn't get a lot of love since it simultaneously looks like it's limited in what it can do, but also requires some deep-diving and understanding of basic code in order to make some really good shortcuts (alternatively, download some useful ones from the Web!). With
iOS 17
, we are now getting a Camera section within Shortcuts, allowing you to create quick macros to get into specific camera modes. Doesn't sound very useful but, again, with a bunch of pre-set conditions and code, some creative uses could come from this. Also, if Apple has its sights set on Shortcuts for an upgrade, maybe we will get more features than the aforementioned Camera control.
New emoji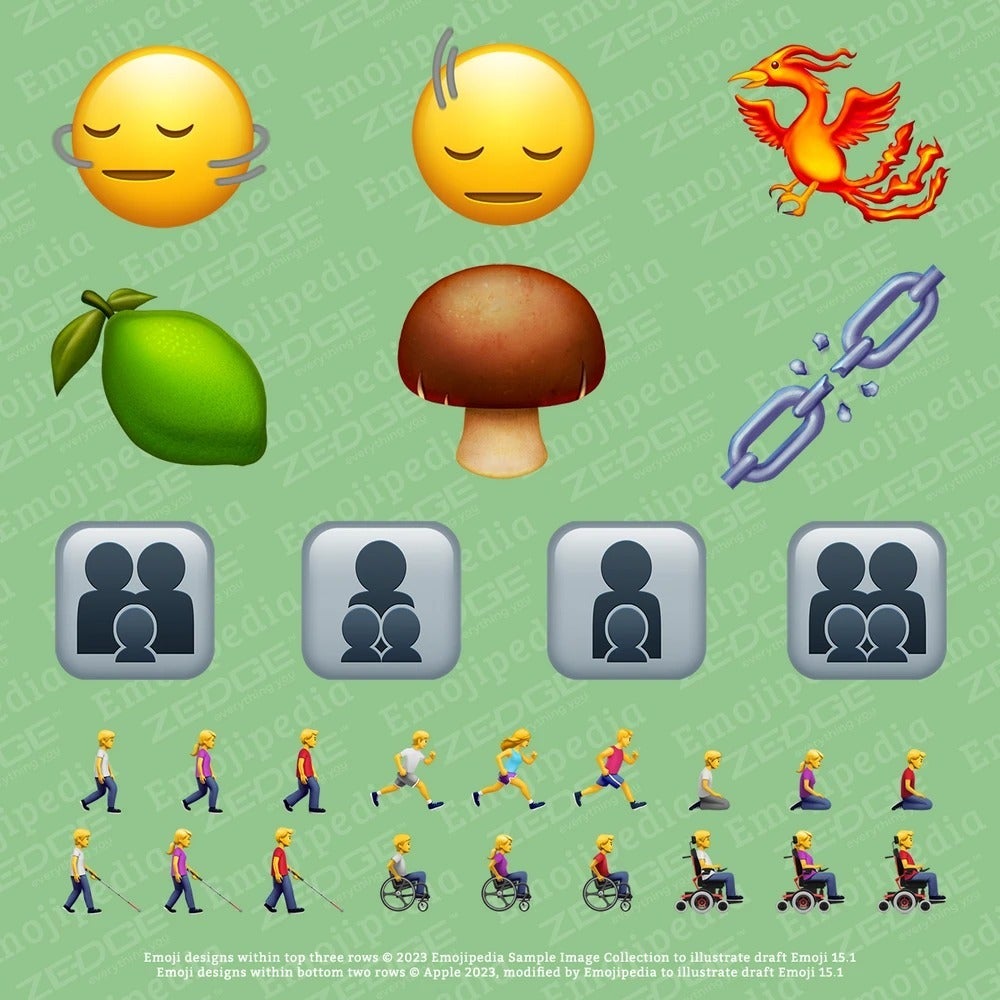 Emoji 15.1 should be coming with
iOS 17
and Android 14. They basically add more skintones for previously-existing emoji (walking, running, in wheelchair) but also a couple more head-nodding smileys.
Improved Private Browsing mode
Safari's Private Browsing mode will now clear tracked links so advertisers wouldn't be able to follow a user's journey from website to website, thus will be unable to build a profile on them.
New Action Button shortcuts
The new iPhone 15 Pro and Pro Max will allegedly have an Action Button instead of the old and beloved Mute switch. The Action Button will sort of function like the one on the Apple Watch Ultra — allowing you to assign functions to it, from a specific set. iOS 17 beta data diggers have found the following terms, tied to the Action Button:
Accessibility – toggle pre-modified Accessibility feature (like colors, white point, zoom, contrast, etc.)
Shortcuts – run a command string that has been pre-made in the Shortcuts app
Silent Mode – good old Mute!
Camera – start up the camera
Flashlight – toggle the LED flash. We wonder if it will automatically go full brightness or just turn on with the last brightness you used.
Focus – toggle one of your pre-made Focus modes (the new Do Not Disturb in iOS)
Magnifier – open the Magnifier app
Translate – launch the Translate app — hopefully with improvements to it
Voice Memos – start a Voice Memo
More…
It's worth noting that Apple says that more new features will become available as fall approaches. It's safe to assume many of them weren't ready for prime time, or weren't noteworthy enough to get time in an already lengthy event.
Here's what Apple says is coming with
iOS 17
so far:
Photos

– better at recognizing people, and will learn pets' names

Find My sharing

– share an AirTag with up to 5 people

Offline Maps

– download an area and use it for turn-by-turn navigation and estimated arrival times even when offline

Apple Maps

– will now show EV charging stations

Health app

– new features for mental well-being, including anxiety and depression assessments

Safari

– improved private browsing mode with better protection

Apple Music

– collaborative playlists to have with your friends. SharePlay in the car allows passengers to control Apple Music even without a subscription

Reminders

– a new grocery list will automatically group items in categories to make fast shopping easier to organize

Visual Look Up

– you will be able to inspect and "lift" individual subjects from paused videos, just like from photos
"

Hey

, Siri" – you can now activate Siri by just calling out the name, then speak multiple prompts without needing to re-activate the assistant

Assistive Access

– changes the phone's UI to really simplified, clear, big buttons meant to make them usable for users that are impaired in some manner

Live Speech

– allows users to type on the phone and have the device speak out their words — in Phone calls, FaceTime, and in live situations

Privacy – Communication Safety

– a feature that will help keep kids safe when it comes to receiving files, but also sending files with the photo gallery picker. Extends to videos as well

Privacy – Sensitive Content Warning

– on-device image processing will detect photos that are of potentially unwanted content and pop up a warning that you may not want to see it if it's not from a trusted contact
منبع: https://www.phonearena.com/ios-17-release-date-features-news-compatible-iphones