Most of us have probably run into spam at some point because it's just everywhere. Those spam messages can be quite a nuisance, and receiving updates to reduce their frequency is definitely a welcome change.
Google is now introducing enhanced spam protection by automatically marking suspected spam messages in Google Voice. As reported by 9to5Google, Google's spam caller warning feature has been extended to cover SMS messages on both Android and iOS devices.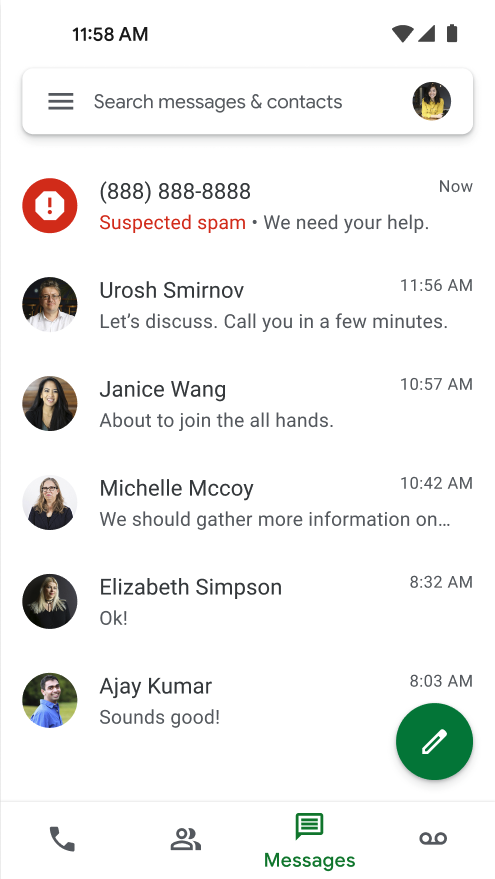 Image Credit–Google
When a message is marked as spam, you'll notice labels indicating its status. A red exclamation mark will pop up in the profile avatar area, and the message preview will begin with 'Suspected spam.' When you spot this label, you've got two choices.
You can confirm it as spam, and any future messages from that number will go straight to the spam folder. Alternatively, you can mark a labeled message as not spam, and you won't see the suspected spam label for messages from that number again.
This feature is available to Voice Starter, Standard, and Premier paid customers, as well as users with free personal accounts in the US. It is now rolling out and will be available to all in the coming weeks.
Google's goal with spam protection is to keep you safe from unwanted calls and potentially harmful scams. For instance, in Google Voice, any calls it thinks are spam get tagged as 'suspected spam caller.' Google relies on advanced artificial intelligence, the same tech that spots billions of spam calls every month across Google's network, to make this call.
Google is also rolling out three more updates. When you hover over someone's people card in Google Contacts and various Google Workspace products, you'll now see birthday decorations. If you've added your birthday to your Google Account profile and made it visible to others, you'll also get those decorations on your special day.
In the Google Sheets iOS app, you can now easily add hyperlinks to cells. Plus, if you're using Directory Sync, you can place users from Azure Active Directory or Active Directory into a specific organizational unit on the Google Workspace side.
منبع: https://www.phonearena.com/news/Google-Voice-extends-spam-protection-to-SMS-messages-on-Android-and-iOS_id150720