The wearable band market headed into the second quarter of this year on a two-quarter losing streak. The good news, as noted by
Canalys
, is that during Q2, shipments in the worldwide wearable band market rose 6% year-over-year as 44.2 million wearable band products shipped globally during the three months. Apple led the way shipping a leading 8.1 million Apple Watch units during the quarter, down 3% on an annual basis. Apple's market share dropped from 20% during the same quarter last year to 18%.
Jack Leathem, Research Analyst at Canalys, says, "The wearables market is coming back to life, driven by increasing consumer demand in various aspects of daily life. Demand across different segments is rebounding, leading vendors to address specific consumer needs."

Apple remains on top of the global wearable band market
Xiaomi, known for its basic bands, was second behind Apple after delivering 4.8 million units, flat with last year's tally. As a result, Xiaomi kept its market share at 11%. Thanks to a 13% hike in shipments of basic bands, watches, and smartwatches, Huawei finished third having shipped 4.1 million units during the June quarter. Huawei's 10% market share was 1% percentage point higher than last year's 9%.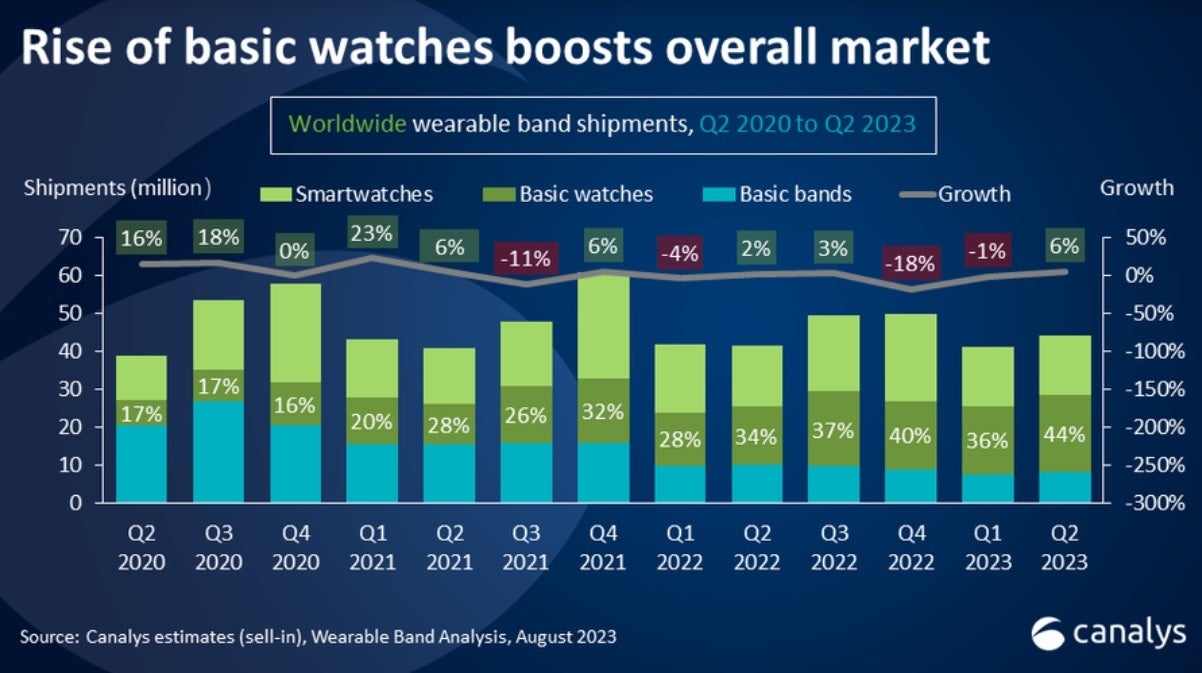 Global shipping of basic watches showed growth during the second quarter of 2023
Noise, a wearable firm based in India, was next with 3.5 million units shipped. The company offers a wide range of Bluetooth smartwatches and had the largest annual gain of the manufacturers on the list with a year-over-year hike of 93%. The company's market share doubled from the 4% it had during the second quarter last year to 8% this year. That left another Indian wearable brand, Fire Boltt, to finish fifth. Fire Boltt had 3 million units shipped, up a hefty 86% on an annual basis. It left the company with a market share of 7%, up 75% from 4% during the same quarter in 2022.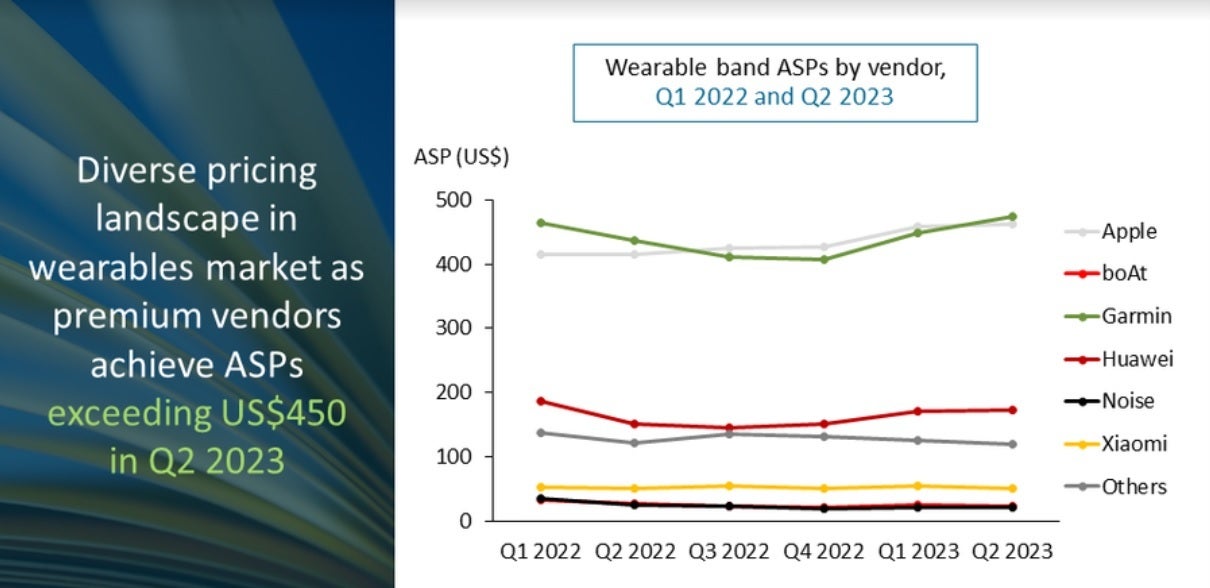 Apple continues to show the way when it comes to pricing on the global wearable band market
Canalys Research Manager Cynthia Chen said, "In light of current economic challenges, wearables maintain significant long-term prospects. Though short-term economic factors push consumers to value-driven wearables, their enduring appeal lies in consistent quality and long-term data benefits. Canalys forecasts the wearables market is poised for sustained growth at a CAGR (compounded annual growth rate) of 4.1% through to 2027, underpinned by shifting consumer needs."
Canalys says that premium wearable manufacturers achieved an Average Selling Price (ASP) during the second quarter exceeding $450 led by Apple. On the other hand, Fire Boltt has cut its average selling price to under $19.
منبع: https://www.phonearena.com/news/wearable-band-market-rebound_id150751