The 10x 10MP periscope telephoto camera is one of the marquee features of the Galaxy S23 Ultra. It also features 100x digital zoom and gives the phone a distinct advantage over other top camera phones which can't zoom as far. The phone also has another 10MP telephoto camera with 3x zoom.
Despite having a lower zoom range than the current 10MP 10x camera, the new 50MP sensor is not necessarily a step backward. For starters, it's a higher resolution camera, so it will be able to take more detailed pictures. Secondly, it's bigger than the sensor it's replacing so it should be able to gather more light and this should improve the low-light performance. Both of these things have been issues for the Galaxy S23 Ultra at longer zoom ranges. Moreover, as Max Weinbach points out, the phone will likely use sensor crop for a zooming range close to 10x.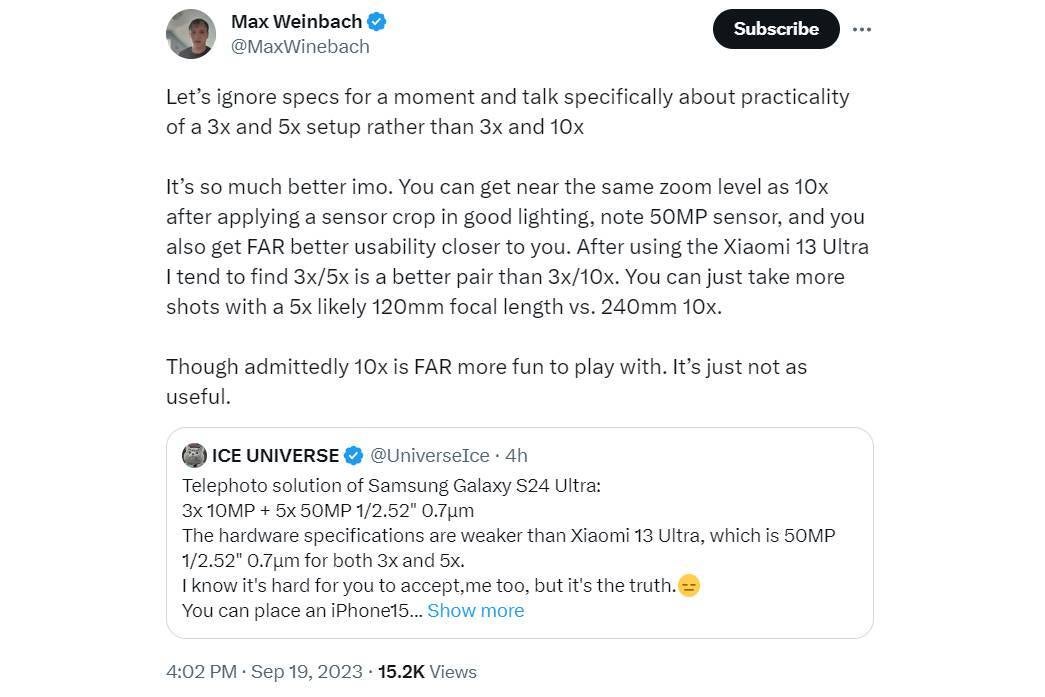 Regardless, if this rumor turns out to be true, it's bound to disappoint some fans but the decision was allegedly not taken lightly.
Leaker
Revegnus
says that the
Galaxy S24 Ultra
is going to be costlier to make than the
Galaxy S23 Ultra
. For starters, the phone is likely to use the Snapdragon 8 Gen 3 in all regions, so Samsung will not have the financial leeway that comes with using a proprietary chip. On top of that, Qualcomm's next flagship chip is rumored to be so much more expensive than the Snapdragon 8 Gen 2 that some manufacturers have decided to avoid it altogether. Other than that, the
Galaxy S24 Ultra
's base RAM is rumored to increase from 8GB to 16GB.
Samsung was presumably considering a price increase before the iPhone 15 series was announced, but since Apple's new phones cost essentially the same as their predecessors. Samsung now has no option other than cutting corners where it can,
The Galaxy S24 Ultra will feature a flat screen with thicker bezels and a titanium frame, per earlier rumors.


منبع: https://www.phonearena.com/news/Cost-cutting-apparently-behind-decision-to-remove-Galaxy-S24-Ultra-10x-periscope-camera_id150774