However, the number one feature that users have been asking for – the battery life – has not changed one bit, and the Series 9 still needs to be recharged every day and is rated at the same 18-hour battery life as before.
The Apple Watch Series 9 launches next Friday, on September 22nd, so we have not unboxed it just yet, but Apple has now reduced the size of the box significantly while still packing the same things inside.
You can find the watch itself and a magnetic charging cable, plus some user manuals and the strap you order.
The new Series 9 looks just like the Series 8 before, same familiar rectangular body, same 41mm and 45mm sizes, and same weight.
The only new thing is a pink color option, which arrives in strange coincidence with the success of the Barbie movie this summer.
What has changed is the screen. Not its size, but the brightness: it can now get twice as bright, reaching 2,000 nits, up from 1,000 nits on the previous Series 8 model. This is great for outdoors use so you can see it without even squinting your eyes.
And in the dark, it goes down to just 1 nit, an improvement from the 2-nit minimum brightness level previously. This might sound like a small improvement, but when you are using your watch in bed at night, it's noticeable, so we appreciate having it.
Apple Watch Series 9

Processor and Software 
New S9 chipset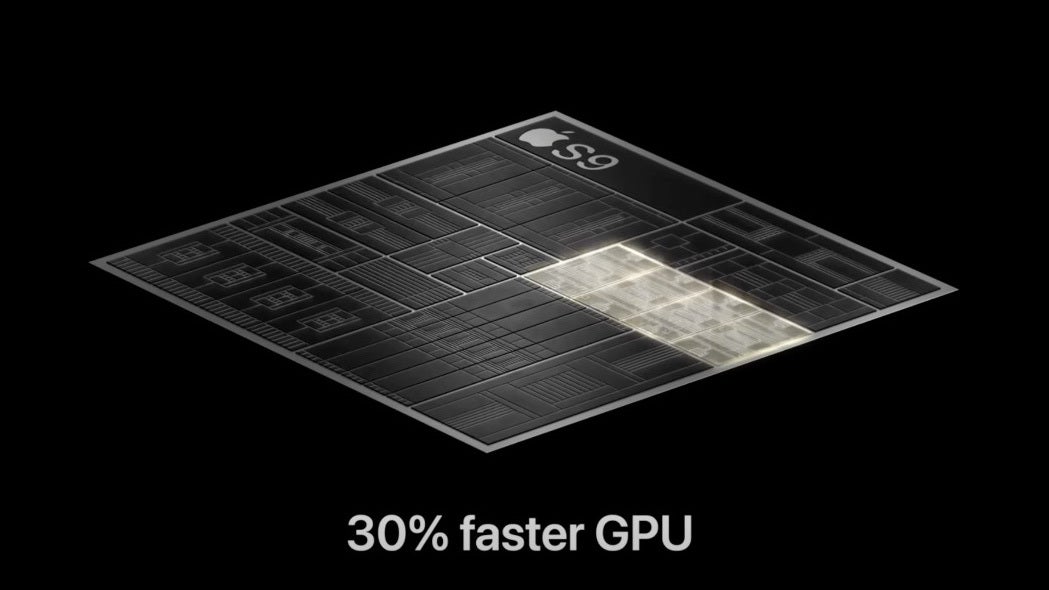 The big news for thte Series 9 is the new Apple S9 chipset (or SiP as Apple calls it) inside the watch. This is the first new chip on an Apple Watch in years, and it now has 5.6 billion transistors (60% more than in the past), a 30% faster GPU, and a new 4-core neural engine which is 2X faster than before.
That's cool, just don't expect much of a change in daily use, the Apple Watch worked quickly and smoothly before and we could not spot much of a change, it's still just as fast.
All this new power is, howevr, very welcome and used for the more advanced new features. For example, many of the Siri commands are now processor-driven and executed on the device instead of going to the cloud, which makes Siri interactions a lot faster and also available when you are offline.
As for software, the Series 9 runs on watchOS 10 at launch, and this has been one of the bigger visual changes to the system with more intuitive gestures.
There are no changes in the heart rate sensor, or the GPS, so that means the Series 9 is still a single-band GPS device and only the Apple Watch Ultra series have dual-band GPS.
New Apple Watch Series 9 Gesture – Double Tap
Apple made the new Double Tap gesture the big highlight of the Apple Watch announcement, and it's indeed a really cool feature and Apple managed to keep it a secret until the very launch.
It uses the faster processing with the new S9 chip, so that's why, Apple says, it will not come to older models, it will only work on the Series 9.
What it does is it uses the gyro and accelerometer to detect when you double tap your index finger and thumb together. It takes just a bit of getting used to, but once you get the hang of it, it should work well all the time.
If you are on the home screen, it will go through the widgets you have on your watch face, but you can also use it when you are already inside an app where it serves as a tap on the main button, so if you've got an incoming call a double tap would answer or end the call, or if you use the watch as a remote viewfinder for the camera you can double tap to take a picture or a video.
Note that this double tap does not yet do anything in sports modes, which would have been nice, so hopefully this comes in the future.Another new hardware feature on the Series 9 is the Ultra-wide Band 2 (UWB) chip, which now helps you have better precision finding, so you can find your phone, your lost friends or an AirTag easier.
Apple Watch Series 9

Battery and Charging
Same old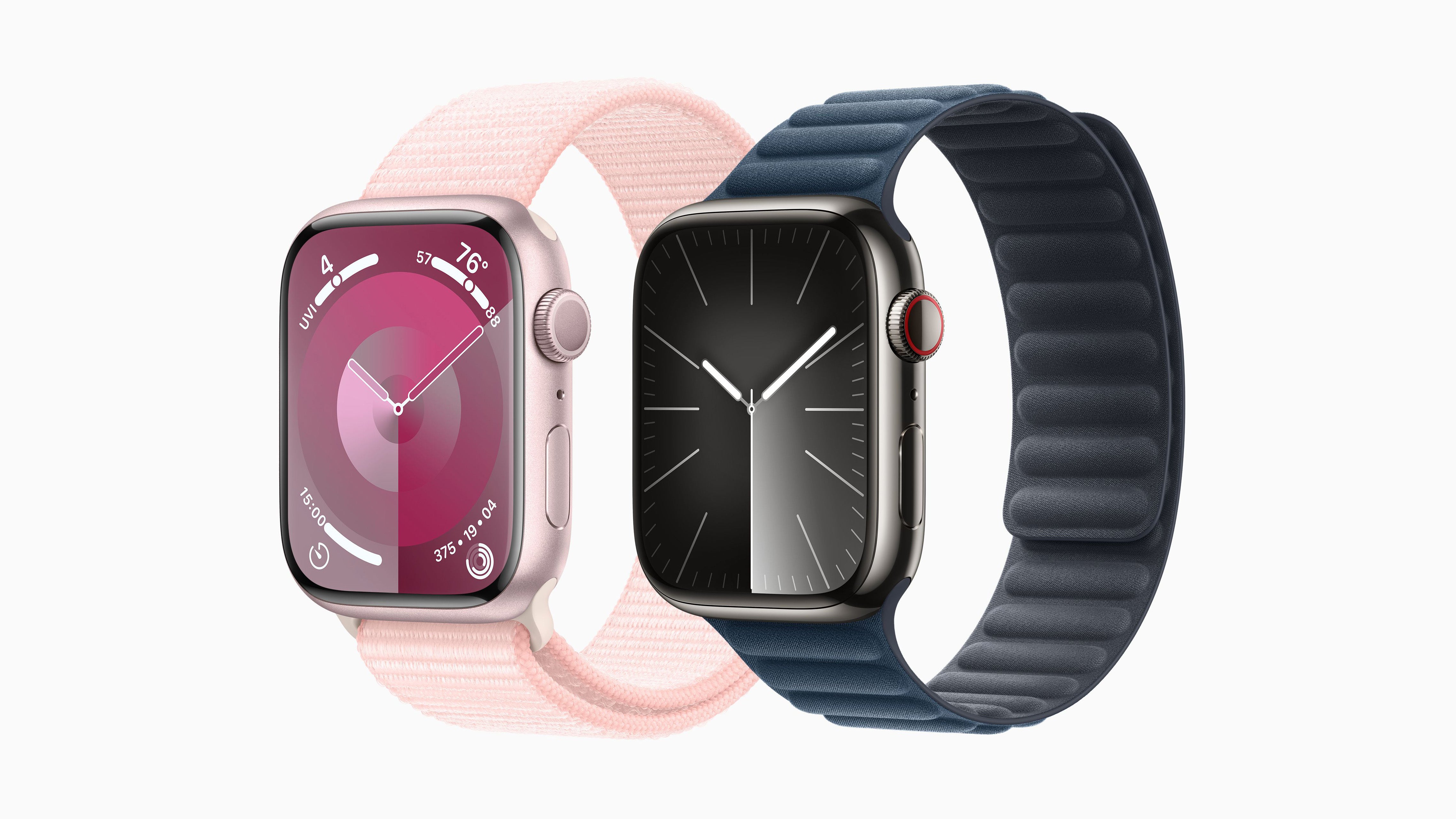 As we already mentioned, battery life on the Series 9 remains rated at 18 hours, or you can get double that if you use it in Low Power Mode.
And that's a bit of a bummer, improved battery life remains the most requested Apple Watch feature for years, but it has not changed.
No change in charging speeds either.
Apple Watch Series 9

Models and Prices
Let us break down all the Apple Watch Series 9 models and prices, but the short of it is that prices in the US are the same as last year, there are no changes.
Apple Watch Series 9

Aluminum 41mm: from $399 for GPS, $499 for cellular

Apple Watch Series 9

Aluminum 45mm: from $429 for GPS, $529 for cellular

Apple Watch Series 9

Stainless Steel 41mm: from $699

Apple Watch Series 9

Stainless Steel 45mm: from $749 
Keep in mind that cellular connectivity is an option on the Aluminum models, while all stainless steel models come with cellular connectivity.
Apple Watch Series 9

Competitors
There are a few bigger rivals to the Apple Watch and most of them bet on advanced sports tracking and longer battery life.
The new Garmin Venu 3 is probably the most notable rival, and you also have nice sports watches from companies like Coros and Suunto.
Apple Watch Series 9

Specs
Below, you can find an overview of the Apple Watch Series 9 specs:
Specs
Apple Watch Series 9
Models (Size, Weight, Prices)
41mm / 45mm, both in Wi-Fi or Wi-Fi + Cellular versions
Processor, RAM, Storage
S9 chip
Software
watchOS 10
Battery and Charging
18-hour battery life
Magnetic charger, 50% in 30 mins
Sensors
GPS
HR, blood oxygen, altimeter, ECG
New features
Double Tap
UWB 2 chip
Apple Watch Series 9

Summary and Final Verdict
In summary, the Apple Watch Series 9 is clearly not a huge update, but it does offer a few cool and stand-out features.
The Double Tap gesture is clearly the big deal, and if people start using it, it might just be a game-changer, but only time will tell about that. The offline and faster Siri is also very nice to have.
The rest are minor tune-ups.
We don't see much of a reason to upgrade to the Series 9 if you have a smartwatch you are happy with, but if your timepiece is getting older and you are looking for a new one, the Series 9 is one of the best around.
منبع: https://www.phonearena.com/reviews/apple-watch-series-9-review_id5976