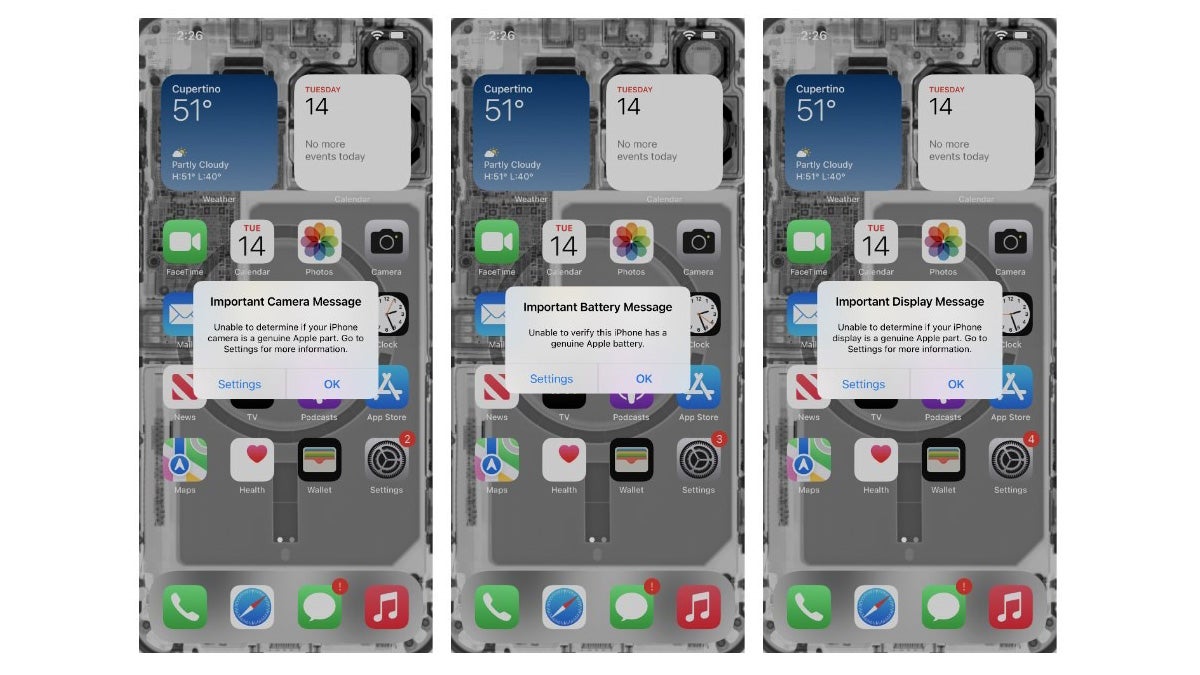 What Apple did to simplify the repairs of the iPhone 14 series last year and the iPhone 15 Pro line this year, it took away with an extremely restrictive part authenticating software system, it seems. So much so, that the folks from
iFixit
went back and lowered the iPhone 14's repairability score from the very good 7/10 to a paltry 4/10, meaning that Apple's iPhones are now very hard to fix. 
This is despite the new frame designs that allow an easy replacement of the back glass at long last. Previously, the whole body of an iPhone had to be replaced for a simple cracked back, leading to repair price abominations like the $549 back panel swaps of an iPhone 14 Pro Max, or the $599 rear glass replacements of the iPhone 11 Pro Max. For comparison, this is more than Samsung currently charges to replace the 7.6″ foldable OLED display of its bendy Galaxy Z Fold 5, and the technology in that panel is way more complex than an iPhone's back glass cover.
Thankfully, European Union mandates for charging uniformity and ease of repairs forced Apple to change its ways. It equipped its phones with a standard USB-C port for the first time, and altered the
iPhone 15 Pro
and 15 Pro Max frames so that the back glass can be replaced without digging all of the handset's internals out and replacing the whole shell. Now, a simple cracked iPhone 15 Pro Max back costs just $199 to replace, instead of $549 for its predecessor. 
Great, right? Yeah, in the physical realm of simple part replacements, but on the now obligatory software side of things…  not so fast.
Apple's System Configuration tool is killing independent repair shops
Back in June,
Apple
announced that it is expanding its Self Service Repair program created as an answer to the regulative push for easier gadget repairability to cover the
iPhone 14
series as well as more Macs. In addition, it would "
also make the System Configuration process used for iPhone repairs, such as displays, batteries, and cameras, even easier to use
," chimed Apple.
Said System Configuration tool, however, has become the scourge of independent iPhone repair shops. Now, Apple says that "Self Service Repair has given anyone with experience repairing electronic devices access to the same manuals, genuine Apple parts, and tools used at Apple Store locations and Apple Authorized Service Providers," but the sad reality is that it has made repairs ever more complex.
Instead of sourcing parts from everywhere they can, fixers now have to order components from Apple, or the authorization system will reject them. Even then, the repair has to be run through Apple's configuration servers to certify it, with all the data sharing and model deprecation consequences, or else a number of warning messages start popping up on the screen of a poor unsuspecting user.
It contacts Apple's servers to "authenticate" the repair, then "pairs" the new part to your system so it works as expected. Of course, it can only authenticate if Apple knows about your repair in advance, because you gave them the exact serial number of your iPhone, and they've pre-matched it to a display or battery. This is only possible if you buy the screen or battery directly from Apple. Forget harvesting parts—which is a huge part of most independent repair and recycling businesses. It's also impossible to pair any aftermarket parts—which means only Apple-authorized repairs can truly restore the device to full functionality.
Apple's indirect response is that "running System Configuration after a repair authenticates genuine Apple parts, updates firmware, and calibrates parts to ensure maximum performance and quality." Instead of giving more freedom to independent repair shops, however, the Self Service Repair program tries to remake them all into the Genius Bar at an Apple Store. It remains to be seen how long regulators and repair businesses can go on like that, but in the meantime the iPhone 15 Pro Max may also get an iFixit score of 4/10, despite Apple's efforts to placate repairability mandates.
منبع: https://www.phonearena.com/news/apple-iphone-15-pro-repair-shops-score_id150791