Intro
So, if you just bought yourself a cool new
iPhone 14 Pro Max
over the past 12 months, you might be wondering — "Oh, is it time to change it now?". Short story — in our opinion — is "No, not really". Sure, there are a number of small improvements, but we don't foresee any of them being explicit gamechangers (like the 120 Hz screen of the iPhone 13 Pro or the 48 MP camera of the
iPhone 14 Pro
were). 
But we are not here to be killjoys. You may be an iPhone fan… you may like to treat yourself to a brand new device every year for a "job well done". Who knows, maybe your birthday is in September? (Hey, happy birthday!) Or, you just want to know how the new flagship iPhone will compare to what you already have. In any of those cases, we are here to explore the differences between the
iPhone 14 Pro Max
and
iPhone 15 Pro Max
!
iPhone 15 Pro Max

vs

iPhone 14 Pro Max

 differences:

Slight redesign
Titanium frame
Mute switch is upgraded to Action Switch
New A17 Pro processor with ray tracing, USB 3 data speeds
No more 128 GB entry option
New camera algorithms to improve image quality
New 5x zoom lens
USB Type C instead of Lightning
Table of Contents:
Design and Size
This one won't be a Spider-Man meme
Apple typically sticks to the same design for years on end. The iPhone 8 from 2017 looked pretty much like an iPhone 6 from 2014. The
iPhone 14 Pro Max
looks just like an iPhone 12 Pro Max, with a larger camera. Point being, Apple rarely changes a product's design, but it's a big deal when it happens. Did it happen this year?
No.
But we do get a new design material. The
iPhone 15 Pro
and
iPhone 15 Pro Max
are made with titanium frames for a lighter feel, but still tough endurance. The new metal also has a new brushed titanium finish, which is very, very welcome. The iPhone 14 Pro's stainless steel frame looks pretty and all, but that shiny finish gets smudgy really, really fast.
That's not to say that the brushed titanium stays perfectly clean, but you can at least mask the smudging if you pick a lighter-colored model.
Additionally, the
iPhone 15 Pro Max
is ever-so-slightly smaller since it has thinner bezels around the display, thus a slightly higher screen-to-body ratio.
As for buttons — you will find the power and volume buttons to be on the same spots on both phones. But the iPhone 15 Pro Max has an extra one — the Action Button now replaces the good old mute toggle. By default, the Action Button will cycle through mute and ringer. But you will also be able to customize it to open apps, Siri shortcuts, flashlight, camera, Focus modes, et cetera.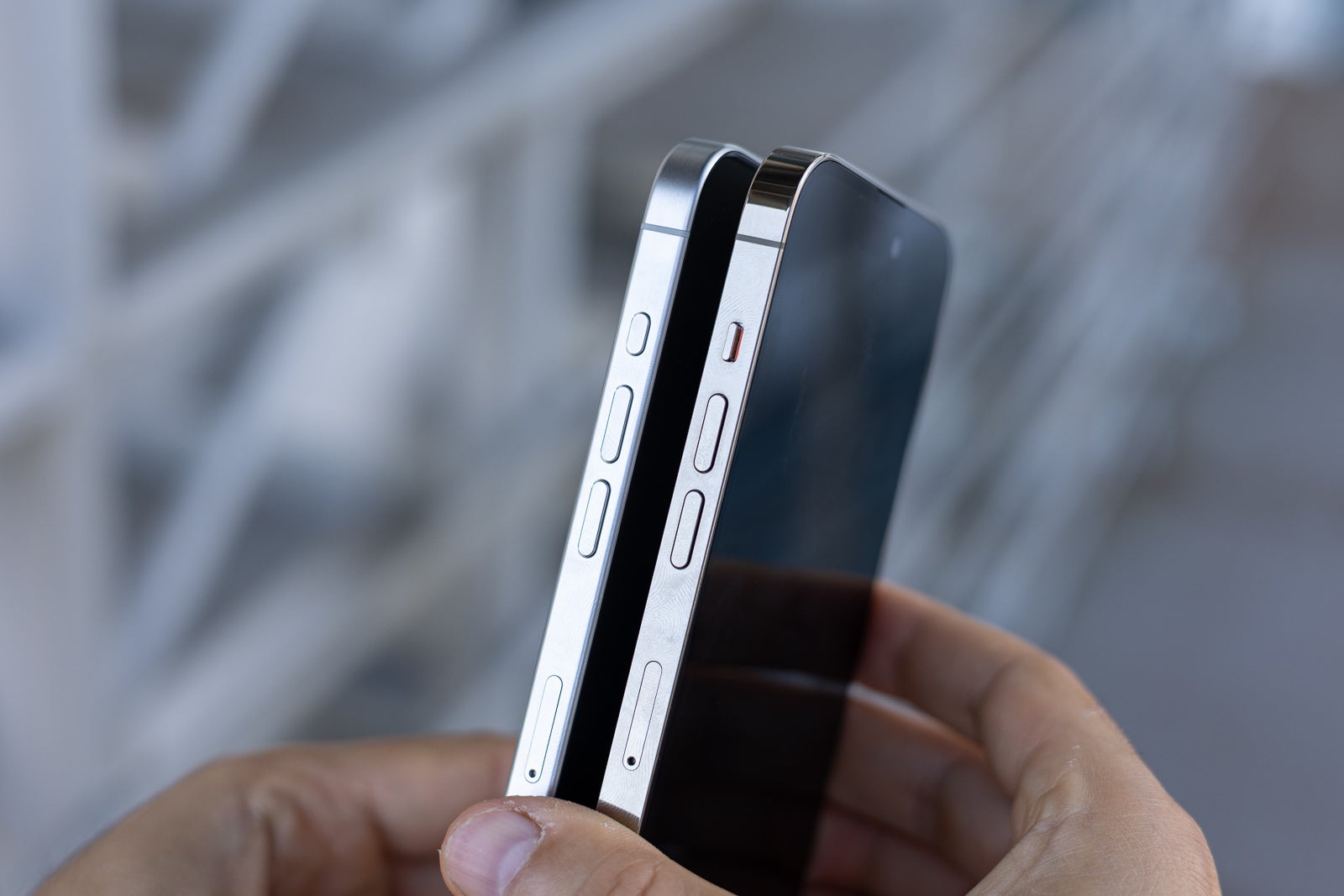 Action Button vs Mute switch (Image credit – PhoneArena)
Yes, it puts the "fun" in "functional", but we can't say we won't miss fidgeting with the good ol' mute toggle on a classic iPhone (or a non-Pro).
Display Differences
We have mostly the same screens on both devices — Samsung-made OLED panels that have the Dynamic Island cutout on top, 120 Hz refresh rates, and 2,000 nit max (peak) brightness.
Do you ever need that much brightness? Possibly not, but Apple is using it for headroom so it can display HDR videos and photos comfortably, no matter your ambient lighting conditions.
The other numbers haven't changed — same 6.7-inch size, with the same 1290×2796 resolution, and a 120 Hz ProMotion refresh rate. Apple has found what it's comfortable with and, in fairness, it works.
iPhones have had a bit of a yellowish tint ever since they switched to OLED. That has gotten better over the years, but it's still present on the iPhone 15 Pro Max. Other colors, however, are excellent — that's on both models.
And, of course, they both have the Night Shift and True Tone toggles to make viewing mode comfortable as your ambient conditions change,
Performance and Software
A17 Pro-Bionic?
Another iPhone, another new processor. The line of succession is followed, and the SoC inside the
iPhone 15 Pro Max
is called Apple A17 Pro — yes, not Bionic, but Pro. Errr, mostly because it unlocks the USB 3 speeds? But it also gives us a GPU with ray tracing, and 10% faster CPU cores, and machine-learning-assisted upscaling for high res gaming.
It is also a bit of a celebrity — the A17 Pro is the world's first smartphone SoC built on a 3 nm process, which is ridiculously small. It fits 19 billion (with a b) transistors in it, and performs 18% more operations per second than the A16 Bionic inside the iPhone 14 Pro Max.
Do keep in mind that "operations per second" does not translate to performance increase 1 to , but does factor in when we are talking about energy efficiency.
For real life use? The iPhone 14 Pro Max is still ridiculously powerful, so the iPhone 15 Pro Max will simply be "more headroom" for 90% of users out there.
What is cool is that the chip has actually convinced some game developers to actually bring their console-grade games to the iPhone 15 Pro. No, that's not a metaphor like "Raid: Shadowlegends is console-level" — we are talking about heavy-hitting titles like Resident Evil: Village and even the hotly-anticipated Assassin's Creed: Mirage!
Apple's wording made it sound like these games are only coming to the iPhone 15 Pro and Pro Max, but we'll see… It doesn't sound like a great investment for a game studio to only develop for two devices.
What we do know is that the iPhone 14 Pro Max is is still very snappy, fast, smooth, and basically among the best-performing smartphones on the market. Its A16 chip will likely live on inside the non-Pro iPhone 15, so it's obviously not going to be considered obsolete just yet. 
And software? Given that Apple updates its older iPhones just as fast as the newer ones — you will have iOS 17 on both of these phones. In fact, it's already out and should be waiting patiently in your
iPhone 14 Pro
's Settings -> Software Update menu (if it hasn't updated yet).
iOS 17
introduces a variety of quality-of-life improvements like the new Contact Poster. Basically, you will be able to choose how you present yourself on the screen of whomever you are calling. There's also a new journalling app, and iMessage updates that will really improve group chats (scroll to first unread, transcribe voice messages, etc.), better ways to share your location, and automatic ways to let close ones know when you have gotten home safely.
Also, the iPhone 15 series have a USB Type-C port instead of the Lightning port for charging and data transfers. You have the EU regulators to thank for this. The non-Pro iPhones are still 
in the stone age
 stuck to USB 2.0 speeds, but the 
iPhone 15 Pro
 and 
iPhone 15 Pro Max
 will be able to transfer data via cable with USB 3 speeds. That means 10 Gbps or 20 times faster than USB 2.0 (and Lightning). Finally, you will be able to get those super-huge video files off your iPhone… if you have the 
optional
 USB 3 cable that is.
In any case, this is definitely better — much better — than the connector of the iPhone 14 Pro Max and its USB 2.0 480 Mbps speeds. Yes, that was a $1,099 phone in 2022.
We get it — most people just use AirDrop anyway. But if you are using an iPhone Pro Max… as a pro tool, you will be happy to know that those 4K 60 FPS video files will now transfer much faster. In fact, you will be able to record 4K 60 FPS ProRes videos straight onto an external drive if you hook it up to the iPhone 15 Pro Max via a USB 3 cable.
Camera
Tetra-mega-… look, it's 5x zoom!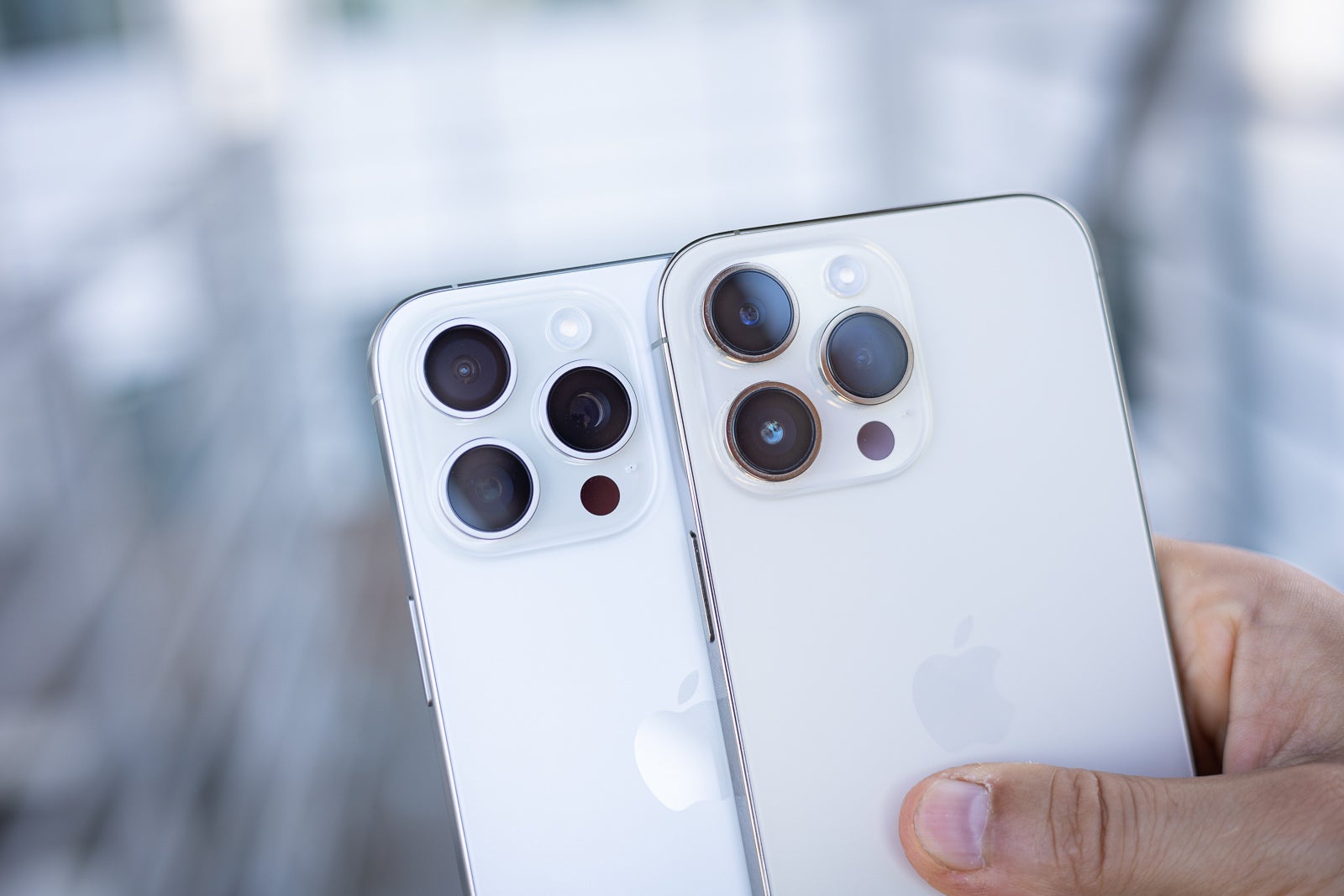 iPhone 15 Pro Max vs iPhone 14 Pro Max (Image credit – PhoneArena)
The main camera sensor of the iPhone 15 Pro Max hasn't changed — it's still the big 48 MP one that was introduced with the iPhone 14 Pro Max. What's new with the 15 is the image processing.
With upgraded Photonic Engine and HDR pipelines, Apple is promising better details, better low light performance, and more accurate skintones. Plus, the
iPhone 15 Pro Max
now bins pixels and shoots 24 MP photos by default — the
iPhone 14 Pro Max
defaults at 12 MP. Should we expect double the image quality? At this point we are hoping for less software oversharpening.
Main Camera
And, as you can see from the photos above — these cameras do perform very, very similar. Specifically night-time shots look identical. However, when the lighting is good, we can spot that the iPhone 15 Pro Max has slightly more realistic details, where the iPhone 14 Pro Max oversharpens. Also, the way the 15 Pro Max treats high dynamics is slightly more realistic, with a softer look and more details pulled from shadows, whereas the iPhone 14 Pro Max can have a bit of a sharp, contrasting difference in areas where bright objects and dark shadows intersect.
By all means, both cameras are excellent, and thus far, we can see small improvements in the iPhone 15 Pro Max, but nothing to stop the bus for just yet.
Zoom Quality
What the
iPhone 15 Pro Max
is
getting is a new periscope zoom telephoto lens. Well, OK, it's a tetraprism lens. Look, the end result is a 5x optical zoom, which is a bit weird — it's a bit too much magnification for portraits, it's a bit too little to compete with the likes of the Galaxy S23 Ultra's 10x telephoto lens.
In any case, we can definitely see the improvement when comparing to the iPhone 14 Pro Max — at 5x, the new model is basically using the entire sensor and the details are crisp and clear. The iPhone 14 Pro Max sample at 5x is ok… but fine details are getting jagged and garbled.
Then, at 10x zoom, the iPhone 15 Pro Max preserves not only better details but more vivid colors, where the iPhone 14 Pro Max image is starting to look washed-out and unappealing.
Ultra-Wide Camera
The ultra-wide camera does seem to be the same hardware-wise, but we can see some processing differences. Apple did promise better night-time performance and we can see it, as the iPhone 15 Pro Max gave us better details and dynamics at night. The daytime ultra-wide shots look very similar, with a slight difference in color temperature between the two images — the iPhone 14 Pro Max appearing slightly warmer.
Selfies
Not much was promised about a selfie camera upgrade, and we can't really see much difference in their real-life performance. Apple did state that it has worked hard to improve skintones with the new iPhone 15 cameras, so maybe further testing is needed with different complexions and lighting conditions.
Audio Quality and Haptics
Apple's haptics have been industry-leading for years (though, Android manufacturers did catch up about 3 years ago). At this point, we don't know how the haptics can be made better — the Taptic engine in the iPhone 14 Pro Max clicks and clacks super-accurately with pleasing feedback, as it has for years now. That's not changing with the iPhone 15 Pro Max.
As for speakers — Pro Max models have sounded great over the past few years. Maybe a bit too scooped in the mids for certain genres, but in general, we get a loud, detailed, meaty sound from both the
iPhone 15 Pro Max
and
iPhone 14 Pro max
.
Battery Life and Charging
All day battery? You betcha
The Apple A-series chips are pretty powerful, but if you don't put some reigns on them, they can melt through a battery, too. On the other end of the spectrum, the efficiency cores are truly that — efficient — and iPhones do great at regular day-to-day operations.
Also, iOS is exceptionally good at preserving charge while in standby, somehow magically keeping the battery from dropping while your screen is asleep.
So, Pro Max iPhones have been pretty dependable to deliver up to 2 days of use on a single charge. Does the iPhone 15 Pro Max squeeze more out of the battery with the A17 Pro's energy-efficiency?
PhoneArena Battery Test Results:
Interesting results — it seems the iPhone 15 Pro Max can get more out of its battery when gaming, but drains faster when video-streaming. While it's not a gargantuan difference, 1 hour either way is not something to completely ignore. And, as you can see, for regular web tasks, both phones perform identically.
So, in real life, it's kind of hard to measure that difference in exact tasks. But we can say that, in our day-to-day lives, the iPhone 15 Pro Max delivers enough juice to give us at least a day-and-a-half of use. Same as the 14 Pro Max.
What about charging? Same 20 W draw on the wire, 15 W with MagSafe chargers. The iPhone 15 Pro Max will also work with the upcoming Qi2 chargers, but we see no reason that the iPhone 14 Pro Max wouldn't — Qi2 was basically designed with Apple's help (Cupertino gave away the ring of magnets so now everyone can have sticky chargers).
Specs Comparison
iPhone 15 Pro Max
iPhone 14 Pro Max
Size, weight
6.30 x 3.02 x 0.32 inches
(159.9 x 76.7 x 8.25 mm)
7.80 oz (221.0 g)
6.33 x 3.05 x 0.31 inches
(160.7 x 77.6 x 7.85 mm)
8.47 oz (240.0 g)
Screen
6.7″ OLED
120 Hz ProMotion
2796 x 1290 pixels
6.7″ OLED
120 Hz ProMotion
2796 x 1290 pixels
Processor
A17 Bionic
3 nm
A16 Bionic
4 nm
Storage options
256 GB
512 GB
1 TB
128 GB
256 GB
512 GB
1 TB
Cameras
48 MP main
12 MP ultra
12 MP 5X zoom

12 MP front

48 MP main
12 MP ultra
12 MP 3X zoom

12 MP front

Battery
4422 mAh
4323 mAh
Charging
USB-C
20 W wired
15 W MagSafe
Lightning
20 W wired
15 W MagSafe
Looking at the table here, we can definitely say that whatever notable improvements the iPhone 15 Pro Max has, they are either in the software or stem from the field of "Apple Magic". Though, the faster USB C port is definitely a long overdue and much needed upgrade.
Summary and Final Verdict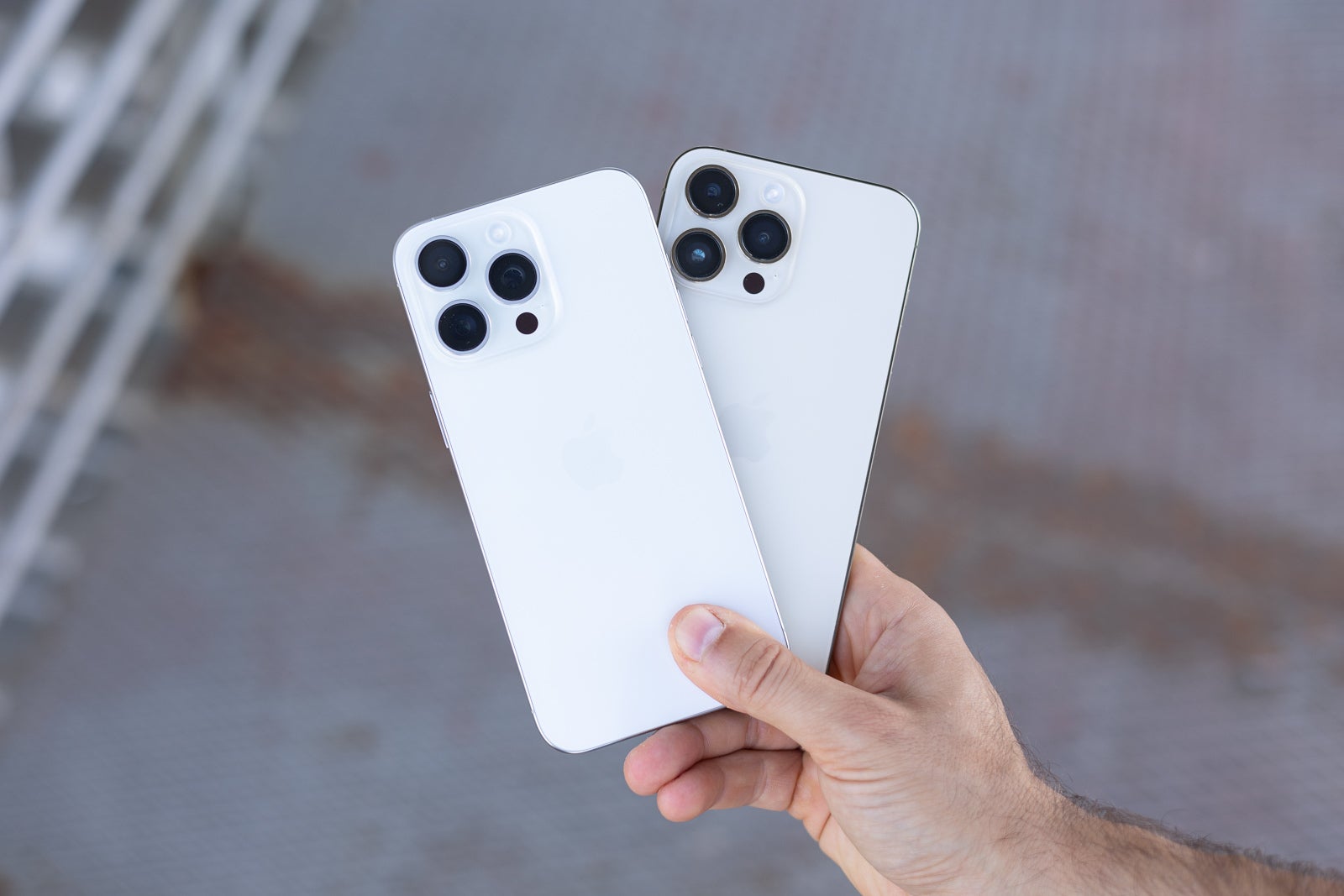 By all means, if you currently have an iPhone 14 Pro Max, you should feel pretty set — we don't think an upgrade to iPhone 15 Pro Max is mandatory or that much of an improvement. Unless you really, really want that optical zoom and the USB 3 speeds (we get it, especially if you actually use that Pro iPhone as a video camera. A novel concept in a product with a Pro moniker).
In fact, we do think we will be recommending the iPhone 14 Pro Max as a "cheaper super-premium phone" as long as it's available (shops and carriers will be clearing stock!).
But don't get us wrong — the
iPhone 15 Pro Max
is definitely a killer phone. If you are on an older iPhone — specifically 12 or below — it will be an awesome jump. If you've never had an iPhone, it would be the most impressive starting point. And if you just want to "treat yourself" with an annual upgrade — there's enough here that will feel a bit newer, a bit more polished, a little bit… better.
منبع: https://www.phonearena.com/reviews/apple-iphone-15-pro-max-vs-iphone-14-pro-max_id5816