Here's something I didn't think I was going to say… iPhone 15 might be one of the biggest year-over-year upgrades in Apple's entire smartphone history.
Not too long ago I explained why last year's vanilla iPhone 14 model was the smallest upgrade Apple's ever come up with. That's because the iPhone 14 was essentially an iPhone 13 with a bit more RAM and satellite connectivity.Without a doubt, iPhone 14 and iPhone 14 Plus were one of the least glamorous moments in Cupertino's long history of phone-making but there's a positive twist here (well, certainly not for iPhone 14 users).
When the bar is set so low, jumping over it becomes a matter of time, and the time has come. iPhone 15 is here to help Apple fans forget about the lacklustre iPhone 14.
Despite the lack of some premium features that some smartphone nerds would consider "fundamental" (like a 120Hz display, or a dedicated zoom camera), the new entry-level iPhone 15 model turns out to be such a huge upgrade compared to last year's iPhone 14 that it almost seems too good to be true.
In fact, I see the iPhone 15 as the second biggest upgrade in Apple's recent history, second only to the iPhone 7 – iPhone X leap from 2017. Even better, the iPhone 15 is such a good package that it also seems to make last year's premium iPhone 14 Pro model look bad, which has never been the case until now.
Step aside, iPhone 15 Pro! This is the year of the affordable iPhone.
Unbelievable list of iPhone 15 upgrades makes Apple's affordable flagship Semi-Pro: Is Apple finally becoming more generous?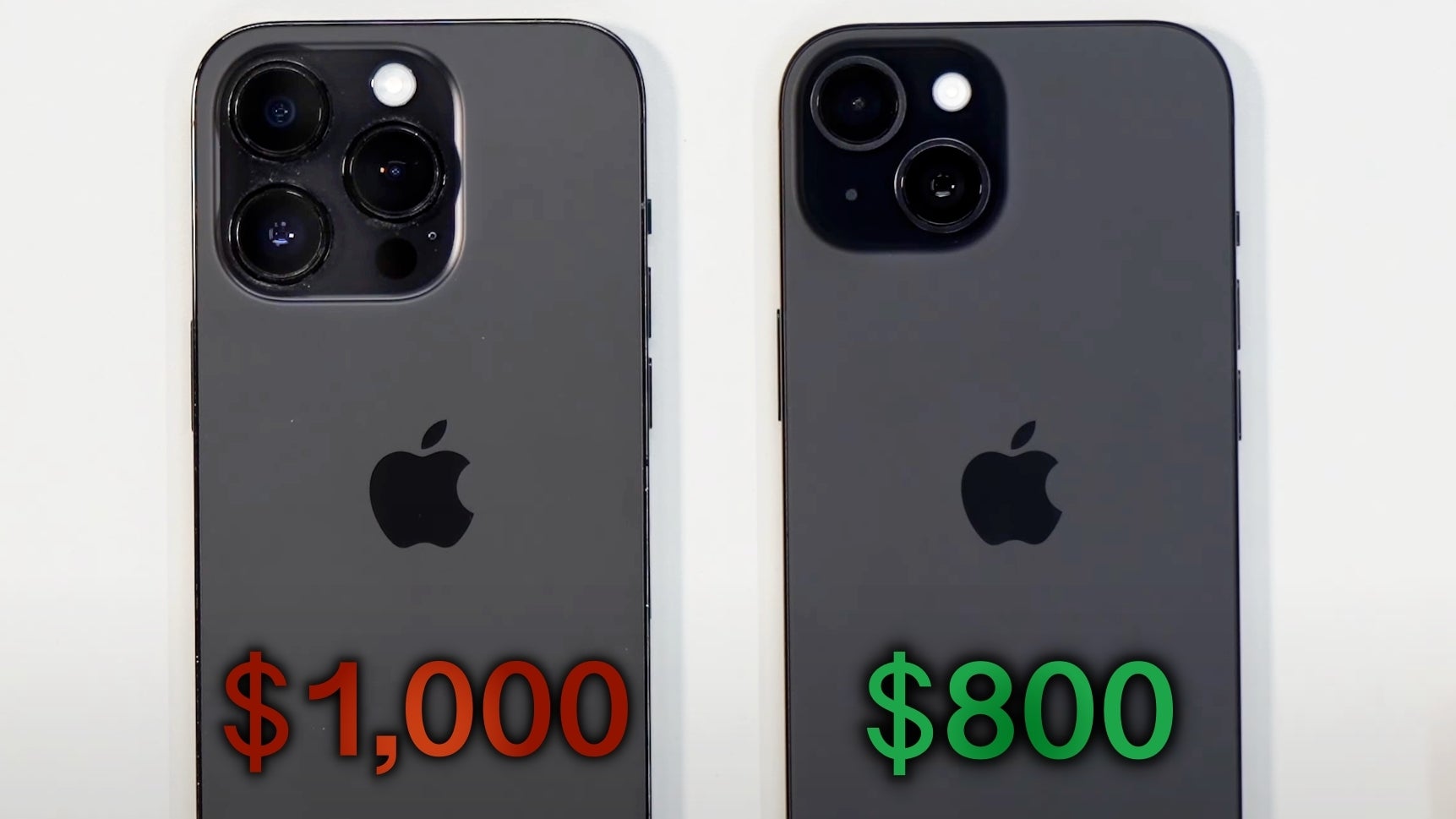 The $800 iPhone 15 is this year's surprise Semi-Pro iPhone we didn't even know we needed.
There are a few different ways to talk about the list of upgrades on iPhone 15 and iPhone 15 Plus this year but I think the most appropriate one would be to put the upgrades into two categories – subjective and objective.
Spoiler alert: the only "subjective" category here is the new camera.
Crucial design, display, and charging port upgrades make iPhone 15 irresistible compared to previous $800 iPhones
Apart from the lack of the 120Hz ProMotion tech and Always-on display function,

iPhone 15

and

iPhone 15 Plus

now share the same displays with the more expensive

iPhone 15 Pro

and iPhone 15 Pro Max – they get just as bright, and you get the Dynamic Island cutout instead of the notch, as well as slimmer borders; this is a notable moment in Apple's history – so far, Pro iPhone models have always had noticeably better displays than their vanilla counterparts
The design of Apple's vanilla flagship finally looks somewhat new; the Dynamic Island, contoured edges, matte finish, and slimmer display borders now make

iPhone 15

and

iPhone 15 Plus

feel different than before, as well as a bit more compact and easier to hold; that's another upgrade we don't often see from Apple – both a visual and practical design change, in one generation
Of course, the USB-C upgrade with reverse charging (allowing you to use your iPhone to charge your AirPods, Apple Watch, etc.) is the cherry on top this year, letting you charge your iPhone, MacBook, iPad, and AirPods with the same cable for the first time ever; sure, the USB-C port in

iPhone 15

isn't exactly fast at transferring data but that's totally fine, since most people who buy the vanilla iPhone don't use is for transferring large files/work
The brand new UWB 2 chip in

iPhone 15

and

iPhone 15 Plus

now lets you locate your lost/misplaced iPhone faster; that's because Precision finding now works from a longer distance; take it for what it's worth but that makes

iPhone 15

the most "findable" smartphone in the world
While the A16 Bionic chip in

iPhone 15

and

iPhone 15 Plus

is the same one used in last year's

iPhone 14 Pro

, this SoC is still more powerful than anything else available on the market right now (at least according to benchmarks); this guarantees

iPhone 15

should work reliably for years to come
Upgraded camera in iPhone 15 is almost too good to be true: Super detailed 24 and 48MP photos, dramatically improved Portrait mode, optical-quality 2x zoom, better HDR and selfie camera
I must preface this section by reminding everyone that I've criticized the iPhone's camera for years now, and that's because Apple deserved it. But I must give credit where credit is due.After going through a bunch of camera samples from various sources, it's safe to say that the camera in the most affordable iPhone 15 is vastly improved compared to last year's vanilla model and even better than the one in the iPhone 14 Pro.
The new 24MP camera mode in iPhone 15 is a game-changer
The new, larger 48MP primary sensor in
iPhone 15
puts out 24MP photos by default, which turns out to be a game-changing camera feature, since it finally makes iPhone photos look like they have natural detail without the oversharpening we've been seeing from iPhone cameras for ages now.
The equally impressive part is that the 24MP photos coming out of the iPhone 15's camera use less storage than competing 12MP photos (from Samsung, Google), making Apple's achievement particularly admirable.
And Apple wasn't kidding during the iPhone 15 launch keynote. Human skin tones do indeed look more accurate in photos taken with the iPhone 15. The updated image processing also seems to be doing better with white balance. iPhone 15's camera doesn't turn photos taken in indoor lighting yellow/orange like the iPhone 14 would.
iPhone 15 can now zoom up to 2x without losing quality – three cameras for the price of two
Another perk of having a 48MP camera is that
iPhone 15
now essentially has three camera lenses to work with, since you gain a 2x optical-quality zoom in photos and videos. This makes upgrading to a Pro iPhone for the sake of better zoom less relevant than ever now.
Moreover, with iPhone 15, you can take 2x Portrait mode photos, which look more professional than the 1x portraits that you can still take.
iPhone 15's Portrait mode is almost magical – you'll use it all the time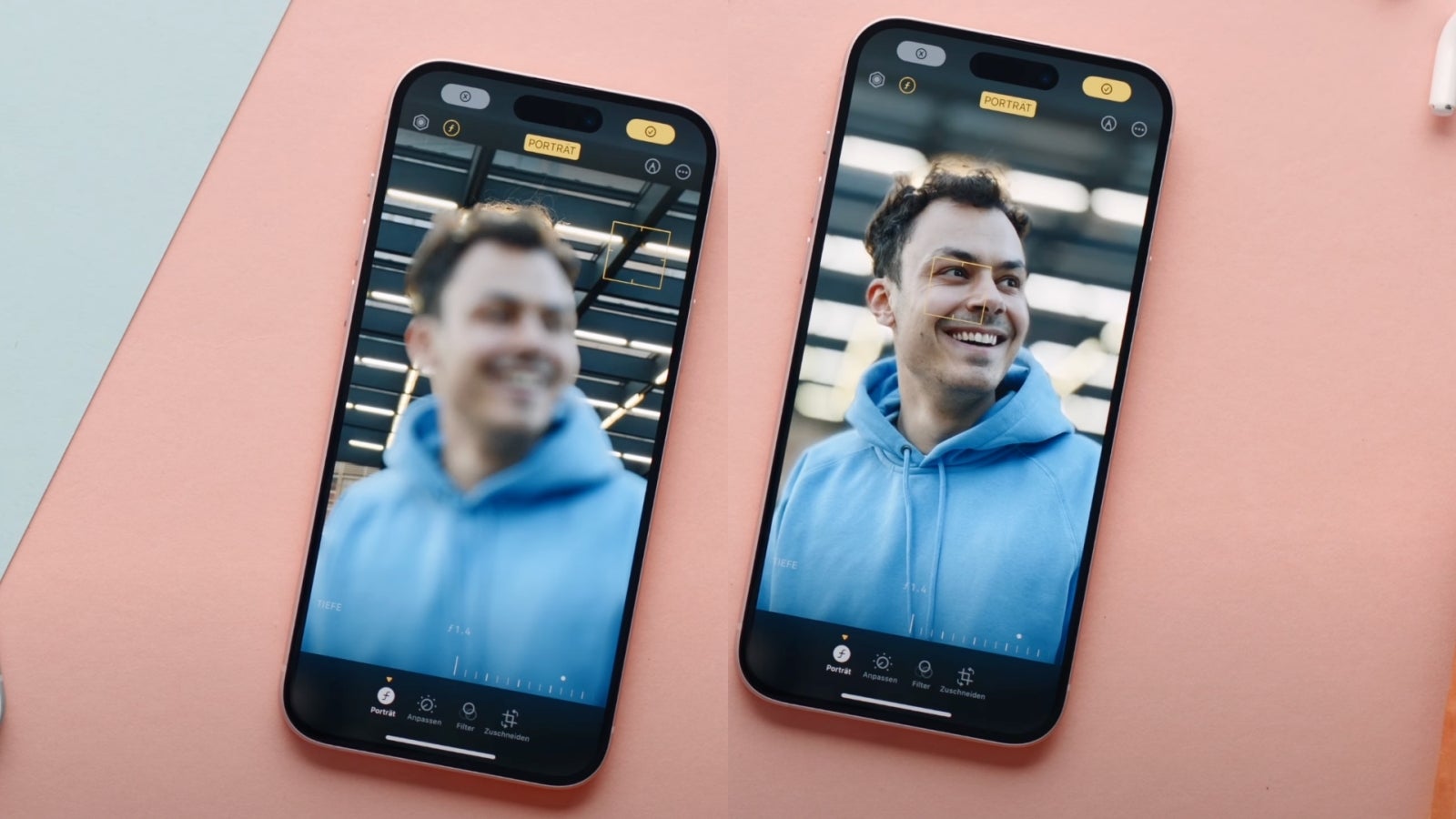 The iPhone 15's revamped Portrait mode lets you take a regular photo and add the portrait effect later and change the focus point. You can also take 2x zoom portraits thanks to the 2x virtual lens.
Speaking of Portrait mode, the brand new Portrait mode experience in
iPhone 15
looks spectacular, and I really can't wait to use it. In fact, the best thing about Apple's revamped Portrait mode is that you don't really need to use it to… use it.That's because
iPhone 15
automatically detects people, pets, and objects (if you tap on the object) and takes a Portrait mode photo for you. You can also take a normal photo and decide to turn it into a portrait after the fact (if the object was recognized). Apple also lets you change the focus point.
In a nutshell, the upgraded Portrait mode makes iPhone 15 the easiest smartphone camera to use if you want professional-looking photos without having to do any extra work. It also looks like Apple's new portrait algorithm is more accurate and intelligent.
Speaking of portraits, the big upgrades to Portrait mode spill over to selfies too. Moreover, iPhone 15 and iPhone 15 Plus now feature auto-focus on the selfie camera, which will make sure your selfie photos and videos are absolutely always in focus. iPhone 14 didn't enjoy a 100% success rate in this area, so this is a notable upgrade.
Apple's new HDR 5 algorithm finally helps iPhone 15 compete with Android cameras in super challenging conditions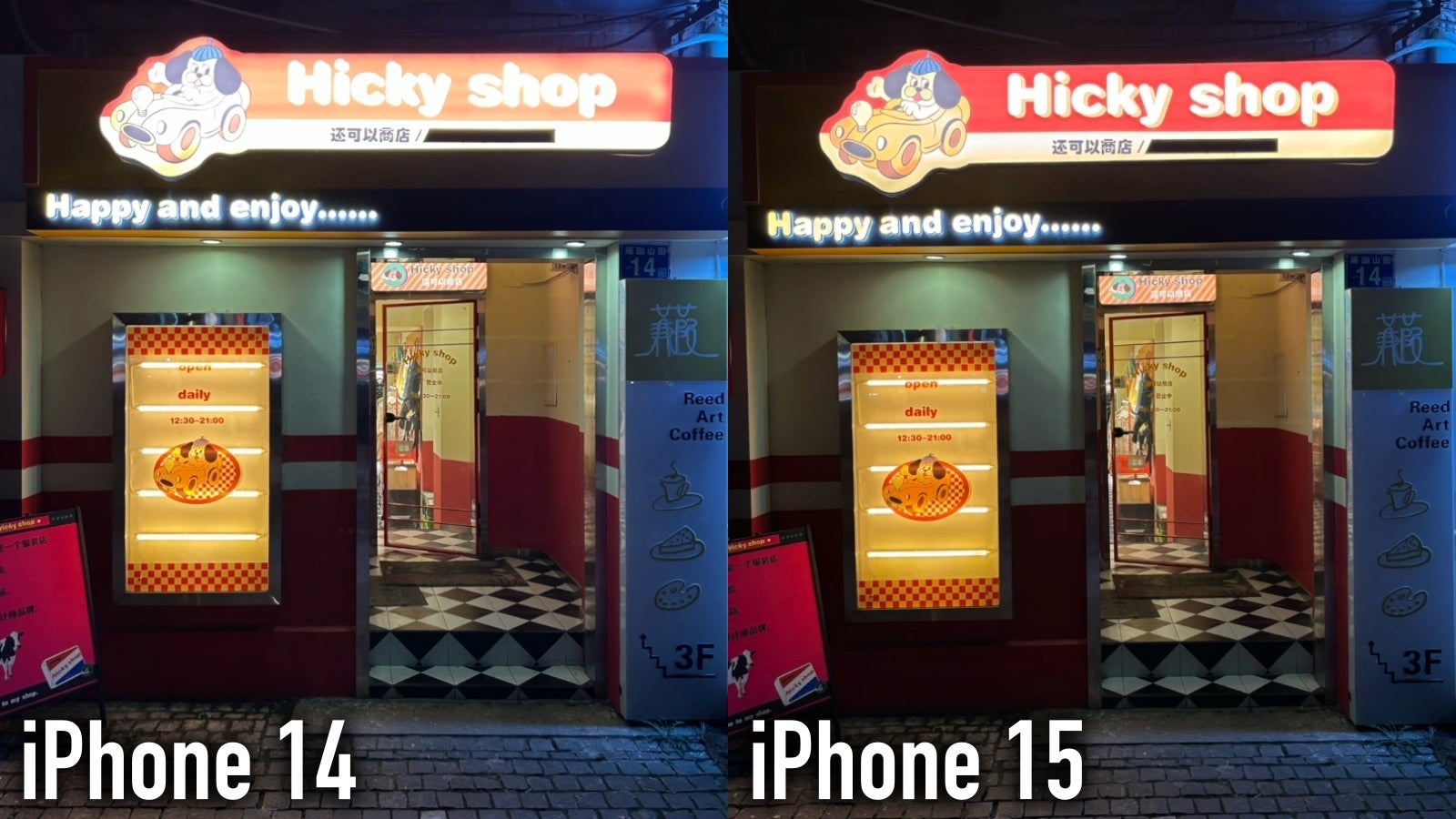 After years of subpar HDR performance in photos, iPhone 15 brings massive improvements in this crucial area of  smartphone photography.
In another long-anticipated upgrade, iPhone 15's dynamic range has finally improved, and can now be considered good rather than very poor, which was the case with
iPhone 14
,
iPhone 13
, iPhone 12, etc.I doubt Apple's improved HDR will compete with the likes of Vivo and Oppo but it finally looks reliable enough for taking photos of high-contrast scenes where you need a good balance in the dark and bright parts of the image.
Frankly, this much needed upgrade was long, long overdue, so I don't even know if I'm supposed to give Apple credit, or call the company out on being super late. Either way… better late than never, I guess?
The iPhone 15's camera isn't quite perfect. After looking at dozens of samples, I can tell you the iPhone is still prone to making people with darker skin look "dead" in photos taken in harsh lighting (taking away virtually all of the color from the face). Another annoying issue that's been haunting iPhone cameras for years is also present and that's the iPhone 15's sheer inability to capture purple/blue neon light where it blends the colors together and basically ruins the entire photo.
"Too good to be true" iPhone 15 is one of the best Apple surprises in a long time: Has Apple gone crazy, or are iPhone users so used to getting the bare minimum?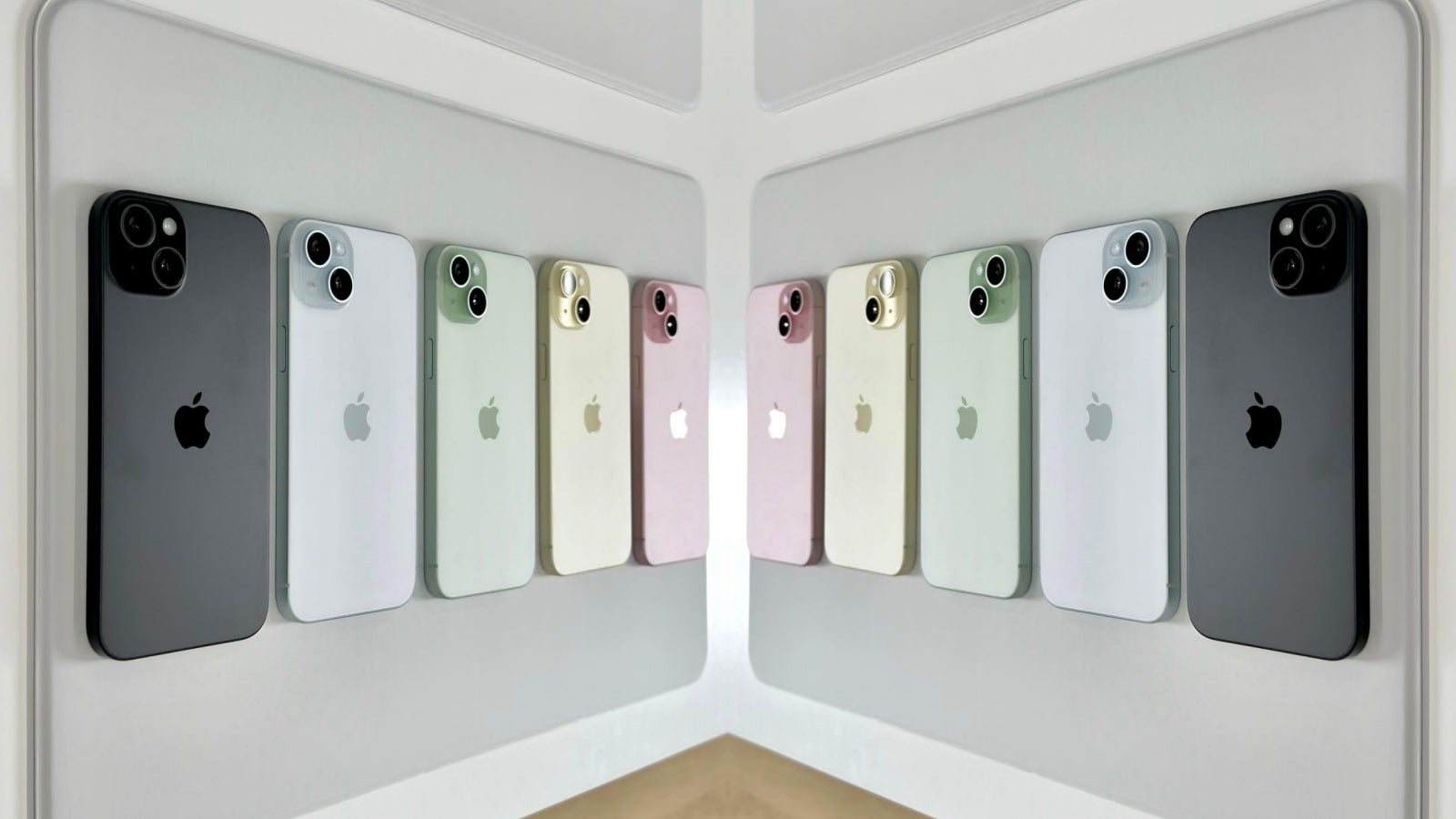 Is the iPhone 15 too good to be true, or were iPhone users always happy with the bare minimum?
If you've been on the fence about upgrading, iPhone 15 might be the perfect moment to jump from any older vanilla iPhone – even the iPhone 14. The reason I think that's a great idea is because… Well, the long list of upgrades, but also – with such a huge iPhone 15 upgrade, you can bet iPhone 16 will be a much smaller refreshment. So, I wouldn't wait.
So, yes…
iPhone 15
and
iPhone 15 Plus
turn out to be absolutely massive upgrades compared to
iPhone 14
and
iPhone 14 Plus
, and maybe even some of the best new iPhones in Apple's entire history. But why is this so hard to believe even for me who's… writing this story?I mean I really like that I'd be able to tell my friends to buy the cheapest new iPhone if they ask for smartphone buying advice, but the tech writer in me is trying to be a bit more pragmatic and look at the bigger picture.
Has Apple suddenly become generous, or is it that Cupertino has made everyone so used to getting the bare minimum, that the new iPhone 15 now seems like such a massive improvement? You could argue most of the awesome upgrades in iPhone 15 are features Android phones have had for many years.
The way I see it, it all boils down to this…
Throughout the years, and thanks to the company's strategy of "slow innovation", Apple has managed to make small, iterative upgrades seem so normal and expected, that the

iPhone 15

upgrade seems almost too good to be true; in other words, we come back to the whole "setting the bar low" theory
Speaking of which, last year's vanilla

iPhone 14

was quite possibly the smallest upgrade in Apple's smartphone history, meaning it set the bar for

iPhone 15

extremely low to make a huge splash
The

iPhone 15

looks quite premium and that's thanks to the design elements it shares with the more expensive

iPhone 15 Pro

(Dynamic Island, slimmer display borders, curved frame, and matte finish on the back); Apple could've added the Dynamic Island to last year's

iPhone 14

but it saved this new feature for its more premium

iPhone 14 Pro

, thus making sure

iPhone 15

now gets another feature previously reserved for premium iPhones
While I would personally pick the lighter iPhone 15 over my iPhone 14 Pro any day, I don't think people who already have the iPhone 14 Pro should even consider buying the vanilla iPhone 15. But if you're choosing between the two… Again – iPhone 15 all day for me.
منبع: https://www.phonearena.com/news/800-dollar-iphone-15-too-good-to-be-real-apple-can-be-super-generous-when-bar-is-set-low_id150878